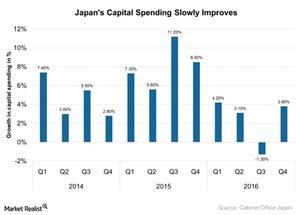 How Does Capital Spending Affect Japan's Economic Growth?
Capital spending inches up in 4Q16
Article continues below advertisement
Current investment scenario in Japan
We can see in the chart above that capital spending by domestic firms rose 3.8% in 4Q16, compared to -1.3% in 3Q16. The increased capital expenditures aim at boosting economic output. Business investment by the nonfinancial sector, including building plants and introducing new equipment, totaled ~$97 billion in 2016.
Capital spending, excluding investment in software, rose 3.3% for 4Q16 in contrast to the previous year. Increased capital spending in both the financial and nonfinancial sectors occurs when there is a weak spot, with companies reluctant to increase their investments due to an uncertain economic outlook.
Public investment is expected to increase moderately in 2017, mainly in the areas of disaster relief construction and a variety of infrastructure projects. Industrial production is expected to pick up with increased demand domestically and abroad. With these developments, the output gap is likely to turn slightly positive from the current level of around 0% in 2017.
Economic impact
Capital spending is expected to boost Japan's economic activity. The country's capital spending in 2016 compared to 2015 has been low, but it shows signs of picking up in 2017 toward sustainable economic recovery. The government spending in certain cyclical sectors is expected to boost the performance of sectors like materials, industrials, and information technology.
Global capital equipment and technology companies that could benefit from capital spending include Panasonic (PCRFY), Hitachi (HTHIY), and Minebea and Tokyo Electron Limited.