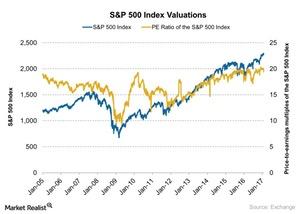 Why Byron Wien Believes the Market Is Overvalued
By Sarah Sands

Updated
Why Byron Wien thinks the market is overvalued
Byron Wien discussed market valuations in a recent CNBC interview. In a previous part of the series, we discussed that Byron Wien thinks the market was due for a correction. Since the US election, the S&P 500 Index (SPY), the Dow Jones Industrial Average (DIA), and the NASDAQ Composite returned 10%, 12.9%, and 12.2%, respectively, between November 8, 2016, and March 28, 2017.
Wien also said that Trump's pro-growth agenda and proposed policy changes have driven markets higher. Trump's focus on various economic policies could lead to higher job creation and has improved investor sentiment.
Article continues below advertisement
Is the market overvalued?
Wien believes that corporate earnings will improve. In 4Q16, we saw that earnings growth showed little improvement. However, as compared to earnings movement, index (QQQ) (VFINX) (IWM) prices have seen more upside recently. He also said that the market is currently digesting the gains it made earlier.
Wien expects that the S&P 500 Index could touch a level of 2,500 by the end of 2017. Currently, the S&P 500 Index is trading at a price-to-earnings multiple of 21.3x. In February 2017, billionaire investor Bill Miller said that the equity market isn't terribly expensive. He said the market might look less expensive on an absolute basis relative to historical performance.
In the next part of this series, we'll analyze how the bond market is performing in this scenario.