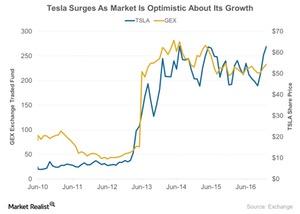 Why Is Tesla Outperforming Its Peers?
Tesla's performance
Tesla stock was trading at $272 per share on February 20, 2017. According to Ron Baron, Tesla is expected to give a return of ~30 to 50 times its invested capital in the next 15 years.
Currently, Baron has ~$300 million in investments and owns ~1.5 million shares in Tesla bought over three years at ~$208 per share.
According to Baron, Tesla has good long-term fundamentals and is also strongly positioned in the electric vehicles market. Baron expects Tesla to grow rapidly over the next decade. Its sales are rising rapidly, and its five-year compound annual growth rate (or CAGR) is ~80%. According to Baron, "They're going to be $20 billion in sales next year, $20 billion. This year, they're doing $8 or $9 billion. Last year they did $5 or $6 [billion]."
Article continues below advertisement
Article continues below advertisement
Tesla stock has posted a CAGR of ~40% over the last seven years, as we can see in the above chart. Baron believes that Tesla is a company with strong fundamentals and a significant global market. The positives about Tesla include its new product launches, its increased store efficiency, and its growing customer reach via its new store openings.
Tesla is also adding to its recent improvements in its self-driving hardware position, aiming for increased market share gains. Some ETFs with exposure to Tesla include the VanEck Vectors Global Alternative Energy ETF (GEX) and the ARK Industrial Innovation ETF (ARKQ).
SolarCity deal
According to Baron, Tesla's recent deal with SolarCity will help it going forward, as the demand for energy is expected to rise alongside growing demand for electric vehicles. Baron's optimism about the SolarCity deal comes with his admiration of Elon Musk, Tesla's CEO.
Baron endorses Musk's vision for bundling electric vehicles, solar arrays, and home battery packs. He views the rise in electricity demand due to the increasing adoption of electric vehicles as an opportunity that Tesla needs to tap.
Baron also believes that SolarCity's solar solution products, such as panels and special roofs, can provide a boost to Tesla's products. Tesla's strategic move to buy SolarCity aims at revamping the electric grid, which could provide support and opportunity in more than just the automobile market.
Tesla's competitors include Ford Motor Company (F), General Motors (GM), Tata Motors (TTM), and Fiat Chrysler Automobiles (FCAU).
In the next article, let's look at roll-up investment Vail Resorts.