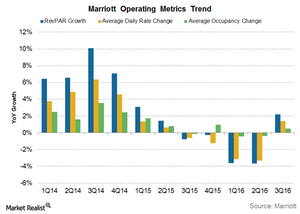 What Do Marriott's Key Metrics Suggest ahead of 4Q16 Results?
Marriott's RevPAR rises
A hotel's operational efficiency is measured by its RevPAR (revenues per available room), which is calculated by dividing a hotel's total guest room revenue by its room count. The two main factors driving a hotel's RevPAR are its occupancy rates and average daily rates (or ADR).
Marriott's RevPAR for 3Q16 rose 2.2% in constant dollars across its worldwide properties. RevPAR for North America rose 2.6% due to a 2.2% rise in ADR. RevPAR for its international properties rose 1.1% in 3Q16.
Article continues below advertisement
Strong pipeline
For 3Q16, Marriott and Starwood Hotels & Resorts together added 17,600 rooms. That brought the total to 4,554 properties and 777,000 timeshare resorts.
Marriott had another 420,000 rooms under development in the pipeline. Those include 1300,000 rooms under Starwood. Of those rooms, 12,000 are approved for development.
2016 outlook
Marriott expects room growth of 5.0%–6.0% for 2016. That's 0.50% lower than the outlook at end of 2Q16 due to delayed hotel openings.
For 4Q16, RevPAR is expected to be flat to a rise of 1.0% across all Marriott properties. Total fee revenue is expected to rise 1.0%–2.0% to $695.0 million–$705.0 million.
Operating expenses are expected to fall 5.0%–11.0% to $70.0 million–$75.0 million. General administrative expenses are expected to fall 16.0%–18.0% to $235.0 million–$240.0 million. That could lead to operating income growth of 9.0%–14.0% to $530.0 million–$555.0 million.
You can get exposure to the hotel sector by investing in the First Trust Consumer Discretionary AlphaDEX ETF (FXD), which invests approximately 14.8% in the hotel, restaurants, and leisure sector. It holds 0.58% in Wyndham Worldwide (WYN), 0.87% in Hyatt Hotels (H), 0.90% in Hilton Worldwide Holdings (HLT), and 1.2% in Marriott International (MAR).