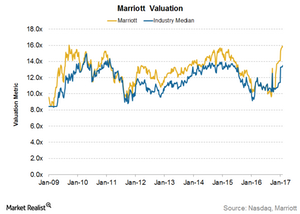 What Are Investors Willing to Pay for Marriott International?
Marriott's current valuation
Marriott International (MAR) currently trades at a forward EV-to-EBITDA (enterprise value to earnings before interest, tax, depreciation, and amortization) multiple of 15.8x. Since January 2008, its valuation has been significantly higher than its average valuation of 13.9x.
Article continues below advertisement
Peer comparison
Marriott's peer Hilton Worldwide Holdings (HLT) is trading at 15.3x. Hyatt Hotels (H) is trading at 10.5x, Wyndham Worldwide (WYN) at 8.4x, and InterContinental Hotels Group (IHG) at 13.5x.
The market is expecting Marriott's EBITDA to rise 21.0% in 2016 and then increase to 44.0% in 2017. Keep in mind that most of this growth is inorganic and related to the Starwood acquisition. Hilton's EBITDA is expected to rise at a much slower rate of 4.0% in 2016 and then fall to 3.0% in 2017.
Hyatt's EBITDA is expected to rise 9.0% in 2016 and 4.0% in 2017. InterContinental's EBITDA is expected to rise 1.0% in 2016 and 7.0% in 2017. Wyndham's EBITDA is expected to rise 7.0% in 2016 and 4.0% in 2017.
Our analysis
Currently, the lodging industry has a lot of things going against it, including slower GDP growth. That means less corporate travel, which means bad news for hotels, especially big ones such as Marriott. Increasing geopolitical and terrorist concerns, the strengthening US dollar, and more competition are other headwinds.
However, with travel demand around the world increasing, long-term growth for Marriott seems to have potential. This demand and Marriott's ability to capitalize on it will be a major valuation driver in the long term. Short-term multiples will be impacted by merger-related news.
Be sure to keep an eye on Marriott's increasing leverage, since that will make the stock more volatile. Marriott forms ~0.53% of the holdings of the Guggenheim S&P 500 Pure Growth ETF (RPG).