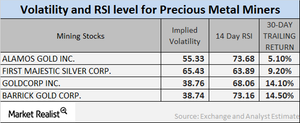 What Volatilities Look Like for Mining Stocks
By Meera Shawn

Updated
Precious metal funds
Precious metal mining stocks are known to closely track the performances of their respective precious metals. The iShares MSCI Global Gold Miners (RING) and the Global X Silver Miners ETF (SIL) have seen YTD (year-to-date) rises of 18.3% and 21.9%, respectively, as of February 23, 2017. Mining stocks often show more volatility than precious metals.
It's important to monitor the implied volatilities of large mining stocks as well as their RSI (relative strength index) levels, particularly in the wake of a rebound in precious metal prices. Let's take a look at Alamos Gold (AGI), First Majestic Silver (AG), Goldcorp (GG), and Barrick Gold (ABX).
Article continues below advertisement
Implied volatility
Call implied volatility takes into account the changes in an asset's price due to variations in the price of its call option. During times of global and economic turbulence, volatility is higher than in a stagnant economy.
The volatilities of Alamos Gold, First Majestic Silver, Goldcorp, and Barrick Gold were 55.3%, 65.4%, 38.7%, and 38.7%, respectively, on February 23, 2017.
RSI levels
The RSI levels for each of these four mining giants rose due to their rising stock prices. Alamos Gold, First Majestic Silver, Goldcorp, and Barrick Gold had RSI levels of 73.7, 63.9, 68.1, and 73.2, respectively.
A 14-day RSI of more than 70 indicates the possibility of a downward reversal in price. A level below 30 indicates the possibility of an upward reversal. Many mining stocks such as Barrick Gold and Alamos Gold may be candidates for a downward correction in price. These technical numbers could be helpful if you've invested in the precious metals mining industry. Investors often look at the comparative performances of mining shares.