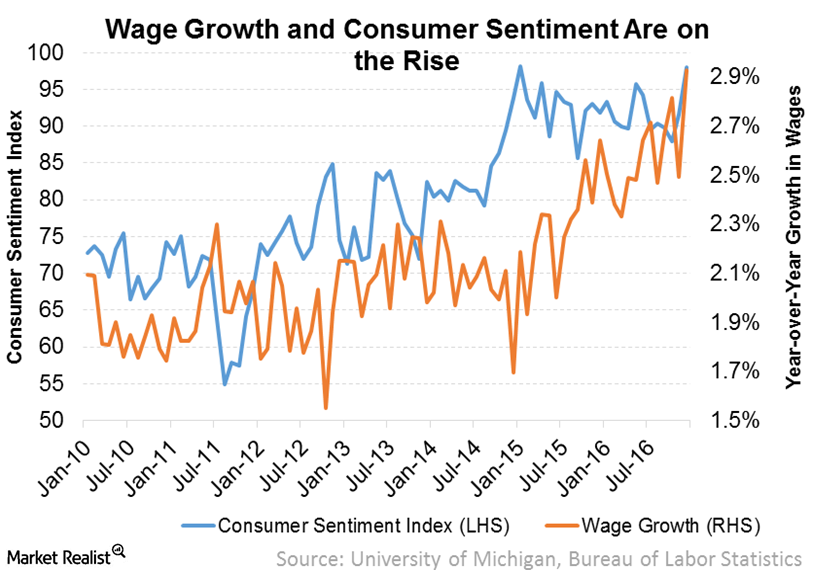 U.S. Economic Drag Is Fading, Upside Surprises Are Possible
By OppenheimerFunds

Feb. 23 2017, Updated 11:31 a.m. ET
OppenheimerFunds
The U.S. economy was weaker than expected in 2016, the lagged effect of the Fed's policy mistake in 2015. In our opinion, the worst is now over for the United States, and economic growth should improve in 2017 and could even surprise to the upside with an appropriate fiscal policy mix from the new administration.
Article continues below advertisement
Consumption
The U.S. consumer lost momentum in the summer but is slowly re-emerging and supported by rising wages, improved housing balance sheets, and greater credit availability.
Government
Government spending has helped growth in recent quarters. The Trump administration has vowed to emphasize defense and infrastructure spending. A fiscal stimulus package may be beneficial if funded through deficit spending and interest rates don't rise sharply.
Article continues below advertisement
Investment
Fixed investment has stabilized as the much-maligned energy sector is recovering from the early 2016 disruption. Residential investment is likely supported by pent-up demand in the housing sector.
Market Realist
The U.S. economy (RWL) (RWJ) seems to have turned the corner. After a sluggish start to the year, the economy (RDIV) (RWK) grew a solid 3.5%, annualized, in 3Q16. There are more signs that the economy could possibly improve more.
The "Wage Growth and Consumer Sentiment Are on the Rise" graph shows year-over-year wage growth along with the University of Michigan Consumer Sentiment Index. Wage growth finally accelerated in 2016 after several years of anemic growth. That caused consumer sentiment to also rise, with the University of Michigan Consumer Sentiment Index hitting nearly a 13-year high of 98.2 in December 2016. Consumption growth is critical since consumption makes up about two-thirds of the American economy.
Article continues below advertisement
The above graph shows the rolling four-quarter average of government spending as a percentage of real GDP. Government spending has helped economic (SPY) growth in the last few years. It's likely to power growth in the coming years since President Donald Trump has proposed to spend more, particularly on infrastructure.
OppenheimerFunds
Net Exports
Trade will remain a drag on the U.S. economy as the recent improvements in the trade balance will reverse course in the face of the stronger dollar. Protectionist sentiment is a left-tail risk not only to the U.S. trade sector but also the entire outlook.