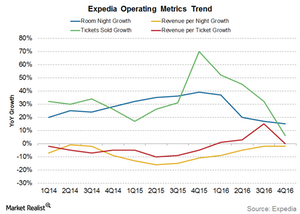 Takeaways from Expedia's 4Q16 Key Metrics Performance
Room night growth remains strong
Hotel reservations accounted for 61% of Expedia's 4Q16 revenue and remain the most important contributor to Expedia's revenues. Expedia's hotel revenues grew 13% year-over-year or YoY in 4Q16. This growth came in as a result of growth in room nights, which grew 15% YoY. However, revenue per room night continues to decline, driven by higher margin sharing in a bid to grow globally.
Article continues below advertisement
Air ticket volumes grow
Air travel accounts for 9% of Expedia's revenue. EXPE's revenue per ticket was flat in 4Q16. Ticket volumes, however, grew 6% YoY. Overall air ticket revenue was up 6% YoY.
Media and advertising
Advertising and media forms ~9% of Expedia's revenue. The Trivago and Orbitz acquisitions continued to benefit Expedia, as its advertising revenues grew 43% YoY in 2016 to $807 million.
Expedia's growth plans
For 2017, Expedia expects the gap between revenue per room night and average daily rate to widen from the 110 basis point gap seen in 2016, given the impact from its rewards and loyalty programs. However, management expects a stable environment in 2017.
Also, management sees huge growth opportunities in both HomeAway and the alternative lodging category, Trivago (TRVG).
EXPE forms ~1.6% of the holdings of the First Trust NASDAQ-100 Ex-Technology Sector ETF (QQXT).