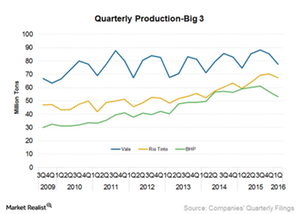 Why Rio Tinto Believes Iron Ore Prices Can Sustain
Ore prices are not going "off a cliff"
According to Bloomberg, Rio Tinto (RIO) CFO (chief financial officer) Chris Lynch has suggested that iron ore prices will not collapse, as many expect. Lynch believes that the Chinese economy will remain strong, which will support demand for higher-quality products. Specifically, Lynch stated: "I wouldn't necessarily say that it's going to fall off a cliff."
Article continues below advertisement
Shift in consumption
Lynch points to another shift that is happening in the Chinese iron ore consumption—namely, the consumption of fewer polluting materials. In this context, Lynch stated: "The switch by mills to higher-quality imports will support Rio and other exporters, while China's growth becomes less reliant on commodities as it balances toward consumption and services from a focus on infrastructure and construction."
Investors should note that Rio Tinto was not always this positive on the prospects of iron ore prices.
BHP and Vale
BHP Billiton (BHP) believes that the surge in iron ore prices will likely cool down. BHP CEO Andrew Mackenzie predicted in 2016 that there will be at least ten years of iron ore oversupply before demand-supply balances itself. He also feels that iron ore will be one of the commodities (COMT) (DBC) that will take the longest to stabilize.
Meanwhile, Vale (VALE) inaugurated its biggest mining project, S11D, on December 17, 2016. It has started to ship volumes from its S11D project, which should boost export volumes. But low-cost supplies and additional ore certainly won't likely bode well for iron ore prices going forward.