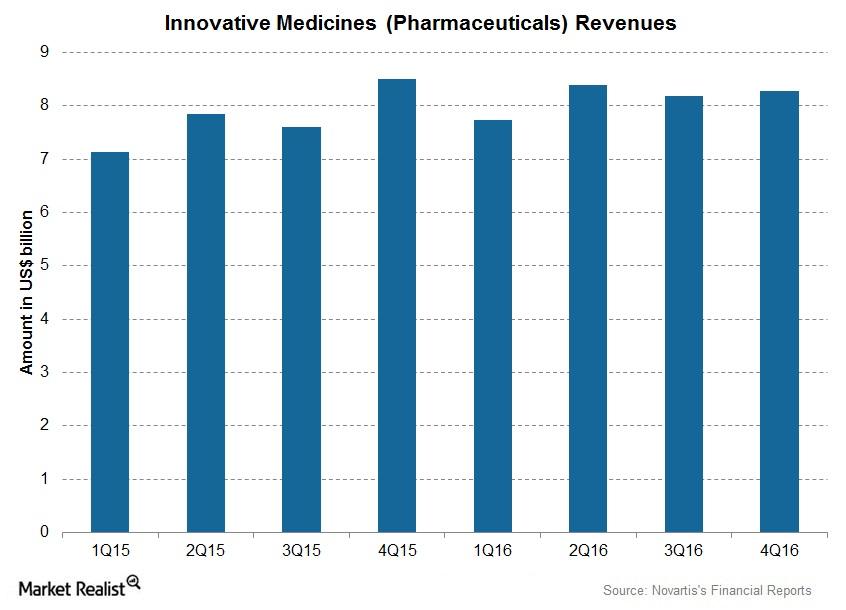 Novartis's Innovative Medicines Segment in 4Q16
NVS's Innovative Medicines segment
Novartis's (NVS) Innovative Medicines segment consists of products for therapeutic areas including oncology, cardio-metabolic, immunology and dermatology, retina, respiratory, neuroscience, and established medicines. The overall contribution from the Innovative Medicines segment was ~67%, reaching $8.3 billion in 4Q16.
The segment includes the pharmaceuticals and oncology businesses. In fiscal 2016, the segment reported revenues of $32.6 billion, which was a 2% fall from the $33.3 billion in 2015, due to the negative impact of foreign exchange.
Article continues below advertisement
Performance of key innovative products
Growth products including Gilenya, Tasigna, Galvus, a combination of Mekinist and Tafinlar, Promacta and Revolade, Jakavi, Entresto, and Cosentyx reported a 20% rise in revenues at constant currencies to $4 billion for 4Q16, or nearly 48% of total segment sales for the quarter.
Gilenya (fingolimod) is an oral therapy for multiple sclerosis. Due to increased demand, its revenues increased by 11% at constant exchange rates, reaching $810 million in 4Q16, as compared to $742 million in 4Q15.
Gilenya reported double-digit growth in most markets. Gilenya competes with Biogen's (BIIB) Tecfidera (dimethyl fumarate) and Sanofi's (SNY) Aubagio (teriflunomide).
Tasigna, Tafinlar, and Mekinist
Tasigna (nilotinib), a drug for the treatment of chronic myeloid leukemia, reported a 9% rise in revenues at constant exchange rates, reaching $458 million in 4Q16, following 5% growth in the global markets, and 16% growth in the US markets. Tasigna competes with Pfizer's (PFE) Bosulif (bosutinib).
Tafinlar (dabrafenib) and Mekinist (trametinib) combination are used in the treatment of BRAF V600+ metastatic melanoma. The combination is approved in over 60 countries for the treatment of unresectable melanoma, and 35 countries for the treatment of metastatic melanoma. The combination reported a growth of 24% at constant exchange rates, reaching $178 million in 4Q16.
To divest risk, investors can consider ETFs like the PowerShares International Dividend Achievers ETF (PID), which has 1.1% of its total assets in Novartis.