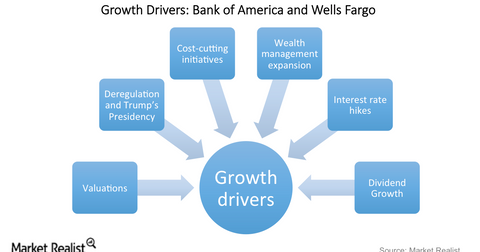 Growth Drivers for Bank of America and Wells Fargo in 2017
By Rebecca Keats

Updated
Interest rate hikes
Like most other banks, Bank of America (BAC) and Wells Fargo (WFC) stand to benefit from interest rate hikes. Net interest income forms ~50% of their revenues, and a 1% rise in interest rates would lead to a rise of 5–15 basis points in their net interest margins. So, rising interest rates are a strong growth driver for these banks (JPM).
Article continues below advertisement
Cost-cutting initiatives
Bank of America's CEO, Brian T. Moynihan, as well as Wells Fargo's CEO, Timothy J. Sloan, have repeatedly stressed the importance of cost controls and how they could significantly boost their banks' earnings over the next few years. Bank of America has an expense target of $53 billion for 2018.
Wealth management expansion
Bank of America and Wells Fargo have laid out plans to expand their Wealth Management businesses in order to strengthen their respective top lines. Low interest rates and uncertain macroeconomic conditions have hurt banks' ability to generate revenues from their trading and investment banking activities. As a result, banks are focusing on wealth management activities to boost their earnings.
Article continues below advertisement
Deregulation and the Trump administration
Donald Trump's expressed policies regarding fewer banking regulations could boost Bank of America (BAC) and Wells Fargo (WFC) stock. Trump has been critical of banking regulations, the safeguards put in place after the 2009 financial crisis, and the Federal Reserve's role in keeping interest rates low.
Dividend growth
Moynihan wants Bank of America to have the freedom to raise its dividends. The Dodd–Frank Act requires banks to obtain approval of their capital plans from the Federal Reserve during their annual stress tests. This restricts banks (XLF) from increasing their payouts, and Bank of America is looking forward to Trump relaxing these rules, which would allow it to increase its dividends.
On the other hand, Wells Fargo (WFC) currently pays the highest dividends among the large banks.
Valuations
Currently, Bank of America (BAC) stock trades at a discount of ~14% to its book value. Wells Fargo (WFC) trades at a premium to its book value. Bank of America stock trades so cheaply because its profitability has been poor. In 2016, BAC posted return on assets of 0.82%, well below its target of 1%. However, its profits are improving rapidly.
In the next part of this series, we'll take a detailed look at these growth drivers.