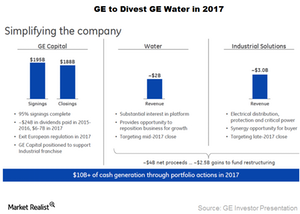 Will GE Water Go the Way of GE Capital Real Estate in 2017?
By Samuel Prince

Updated
GE Water
In an investor presentation in mid-December 2016, General Electric (GE) provided an outlook for its Water business. 
In collaboration with Blackstone (BX), Wells Fargo (WFC) bought GE Capital Real Estate in 2015. BX is now in talks with GE to acquire its Water business for ~$3.0 billion, according to New York Post. If it takes place, the deal would value GE Water at 1.5x its revenue.
Article continues below advertisement
GE Industrial Solutions
In a bid to simplify its business structure, GE has been shifting its focus to its core industrial strengths. GE Industrial Solutions and GE Water are taking steps in that direction. 
GE's Industrial Solutions segment includes electrical distribution, protection, and its critical power business, with a combined revenue of ~$3.0 billion. The company is targeting the divestment its Industrial Solutions business by the end of 2017.
About GE's cash position
According to the market, the above-mentioned positions should help GE to better fund its recently penned Baker Hughes (BHI) deal. The company expects cash of ~$115.0 billion until the end of 2018, roughly $20.0 billion of which will be in the form of debt. The remaining $95.0 billion will come from industrial cash flow from operations, capital dividends, divestiture proceeds, and parent cash.
GE has earmarked $34.0 billion for pursuing mergers and acquisitions and stock buybacks. While a substantial $10.0 billion remains unallocated, GE intends to set aside $8.0 billion for increased buybacks and $7.0 billion for the Baker Hughes transaction. The remaining $8.0 billion will be put toward its announced merger and acquisition opportunities. The company is also planning on pension funding of $1.8 billion and $1.7 billion in 2017 and 2018, respectively.
In a nutshell, the company is clearly focusing on concentrating on core industrials along with boosting its digital business. GE's 4Q16 results could hint at its long-term direction. 
Investors will likely want to track the progression of GE's acquisitions on a variety of fronts. Having said that, you may also want to closely watch the company's debt levels and the cash flow metrics in the coming quarters.