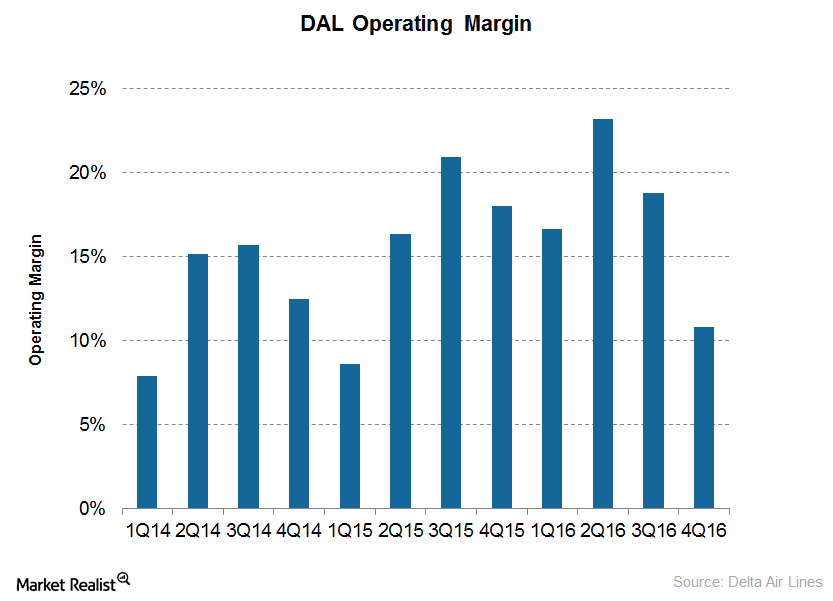 Will Delta Air Lines' Fuel Costs Keep Falling in 2017?
CASM-Ex increases
Until 3Q16, Delta Air Lines (DAL) had managed to keep its costs flat if not decreasing. However, for 4Q16, cost per available seat mile excluding fuel (including profit sharing) or CASM-ex increased by 10.6% year-over-year or YoY, mainly due to rising labor costs, which we'll discuss in our next article.
Article continues below advertisement
Hedge losses save the day
For 4Q16, fuel prices fell 13.5% YoY to $1.60 per gallon. Delta's total fuel expense for 4Q16 fell by over $240 million despite a 12% increase in market prices owing to Delta Air Lines' previous hedging losses, which help offset the impact of a fuel price rise.
Utilization decline
Higher capacity growth coupled with declining traffic has constrained utilization. Higher capacity expansion compared to traffic growth resulted in a decline of 0.1 percentage points in capacity utilization or load factor for the quarter to 85.1% as compared to 85.2% in 4Q15.
For 2016, load factor fell 0.3 percentage points to 84.6%. This should pressure margins.
Outlook
Management expects fuel costs to increase to $1.68–$1.73 per gallon from $1.33 per gallon in 1Q16. At the median price of $1.7 of the expected fuel cost range, this is an ~28% rise in fuel costs.
Despite this decline, Delta's margins will remain above peers United Continental (UAL) and American Airlines (AAL). It will be slightly below peers Southwest Airlines (LUV) and Alaska (ALK). DAL forms 1.4% of the PowerShares Dynamic Large Cap Value Portfolio (PWV).
This decline, along with increasing labor costs, could lead to pressure on margins, which we discuss in our next article.