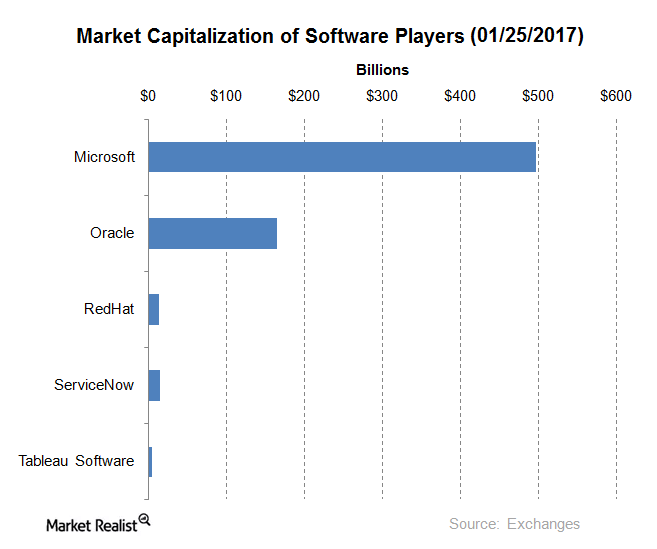 What Is Microsoft's Value Proposition in the US Software Space?
Microsoft's scale in the systems software space
So far in this series, we've discussed Microsoft's (MSFT) acquisitions of Simplygon and Maluuba, its focus on key technologies like AI (artificial intelligence), and its strategy to enhance its presence in China (FXI). We also discussed how Microsoft could be impacted by Donald Trump's reign. Now let's look at the value proposition of the company among select software companies in the United States.
As of January 25, 2017, Microsoft continues to be the largest software player by market capitalization on a global scale. It's followed by Oracle (ORCL), Red Hat (RHT), ServiceNow (NOW), and Tableau Software, which are also among the leading players in the systems software space.

Article continues below advertisement
Article continues below advertisement
EV multiples and dividend yields
Microsoft was trading at a forward EV-to-EBITDA (enterprise value to earnings before interest, tax, depreciation, and amortization) multiple of ~25x on January 25, 2016. By comparison, Red Hat's EV-to-EBITDA multiple was ~16.2x, and Oracle's was ~21.5x on the same date.
Microsoft's forward annual dividend yield was ~2.5% as of January 25, which is higher than Oracle's forward dividend yield of ~1.5%. Red Hat and ServiceNow don't currently pay dividends.
In the next and final part, we'll look at analyst recommendations.