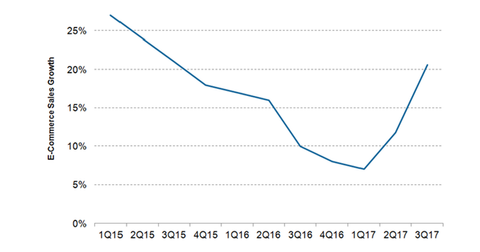 Why Are Walmart and Fellow Old-Guard Giants Shopping in Silicon Valley?
By Ruchi Gupta

Updated
Players in traditional sectors turn to tech startups
Silicon Valley startups with promising technologies have been pulling in money from new sources. But these sources aren't traditional tech giants like Microsoft (MSFT) and Intel (INTC). The money has been coming, instead, from the old guards of traditional sectors—from companies in retail and manufacturing that are looking for a revival.
Notably, Wal-Mart Stores (WMT) parted with $3.3 billion to bring Amazon.com (AMZN) competitor Jet.com under its wing. General Motors (GM) also recently paid ~$1 billion to get its hands on self-driving technology owned by Cruise Automation.
More traditional corporations have gone shopping in Silicon Valley as well, including Ford's (F) purchase of shuttle services startup Chariot for more than $65 million. Unilever (UL) (UN) also forked out ~$1 billion to add Internet razor vendor Dollar Shave Club to its portfolio.
According to PitchBook, spending by nontech companies on Silicon Valley startup acquisitions was ~$10 billion in 2016, almost double its 2015 spending, topping its spending for each of the past five years.
Article continues below advertisement
Why are old guards shopping in Silicon Valley?
But why are old guard companies opening their wallets so wide for venture-backed Silicon Valley startups? The reasons are many and varied, but a certain one is that many in traditional sectors like retail, insurance, and manufacturing are dealing with a "leaky bucket" problem.
Take the cases of Walmart, Macy's (M), Target (TGT) and JCPenney (JCP). These legacy retailers have suffered as e-commerce and Internet retailers like Amazon, eBay (EBAY), and Alibaba (BABA) have stolen their customers. For this reason, traditional retail companies have started acquiring tech startups in an effort to grow their online operations faster.
Beyond reacting to business disruptions, other corporate old guards have begun seeking new growth opportunities, while others have realized that, in general, in order to remain relevant, they'll need fresh skills. And so it's all eyes on Silicon Valley startups.