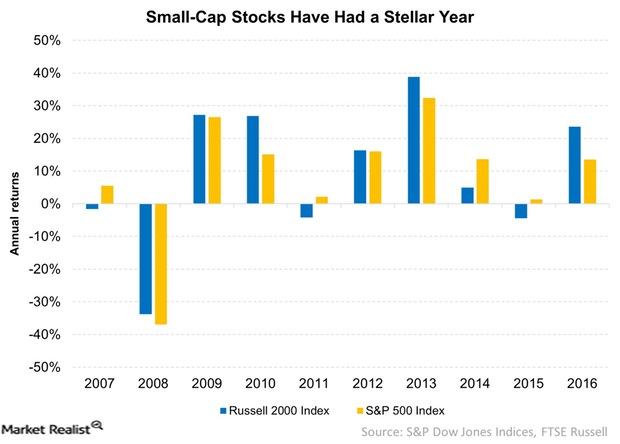 Why Did Small-Cap Stocks Have a Stellar Year in 2016?
Small-cap stocks in 2016
Small-cap stocks have outperformed large caps on a regular basis since 1926. They delivered 11.4% versus 9.5% for the larger stocks on a CAGR (compound annual growth rate) basis. However, they aren't always on investors' bucket list because of a higher risk profile. The outperformance is due to a much higher growth scope for the small caps. Risks arise due to less financial cushion, relative to large caps, to overcome tough periods.
Article continues below advertisement
Article continues below advertisement
Good year for stocks
2016 was a good year for stocks, even though it was slightly volatile. While small-cap stocks had a stellar year with the Russell 2000 Index (IWM) up 23% YTD (year-to-date), broader markets as tracked by the S&P 500 index (SPY) rose 15%. In this series, we'll discuss what caused the outperformance and whether it will likely continue in 2017 and beyond.
Is a stronger dollar good for small caps?
The above graph compares the total annual returns on the Russell 2000 Index and the S&P 500 Index over the last ten years. While small caps have been underperforming large caps in 2014 and 2015, they had a stellar year in 2016. They outperformed the latter by ten percentage points on a total returns basis. Small-cap stocks also outperformed the large-cap stocks (OEF) since the Great Recession due to monetary accommodation.
Many suggested that the stronger dollar (UUP) has been the major reason behind small-cap stocks' outperformance. The rationale is that a stronger dollar impacts the currency-adjusted profits of large-cap stocks. Large-cap stocks have high exposure to international markets, while small-cap stocks focus domestically.
While that's true, small-cap stocks have historically had a negative correlation with the dollar. Also, the dollar's rally in 2014 and the current rally came about due to higher interest rate expectations—a negative for small-cap stocks.