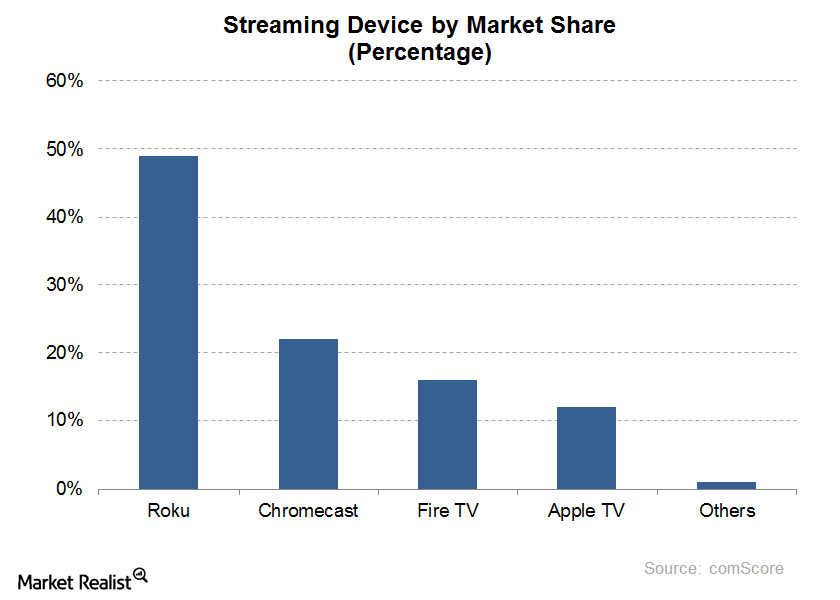 Is Disney Plotting to Deprive Apple of Television Box Revenue?
By Ruchi Gupta

Dec. 4 2020, Updated 10:52 a.m. ET
A streaming device for kids
Disney Kids TV streaming box, which Walt Disney (DIS) unveiled at the CES 2017, quickly appeared to generate heat in the streaming media device market—before the company announced that it was an unofficial prototype.
Despite its name, Disney doesn't own the Disney Kids TV streaming box. A firm called Snakebyte developed it. Snakebyte is seeking to license Disney content for Disney Kids TV.
As the name suggests, Disney Kids TV is aimed at the kids market, and Snakebyte seems to be betting that procuring Disney's content will give it a head start in the streaming media device market. Disney and Snakebyte have yet to announce a licensing agreement.
Article continues below advertisement
Intimidating features
Disney Kids TV box boasts features that could make it a serious challenger for more established streaming hardware such as Roku, Apple's (AAPL) Apple TV, Amazon's (AMZN) Fire TV, and Alphabet's (GOOGL) Chromecast device.
The device runs Android TV operating system, supports 4K content, and besides streaming television content, it can be used to play games. Snakebyte is aiming to ship Disney Kids TV box preloaded with several Disney movies, in addition to support for thousands of channels.
Competitive pricing
The Disney Kids TV box, which is slated to begin shipping later this year, will cost $99. The new version of Apple TV costs between $150 and $200, while Roku Ultra costs ~$120.
By pitching to kids, a Disney-backed streaming device could displace Apple TV, Fire TV, Chromecast and Ruko in households where video and games streaming is mainly for kids.
While Disney Kids TV box could deprive Amazon of streaming hardware sales, Amazon and Netflix (NFLX) would still gain if the box supports their streaming video services.