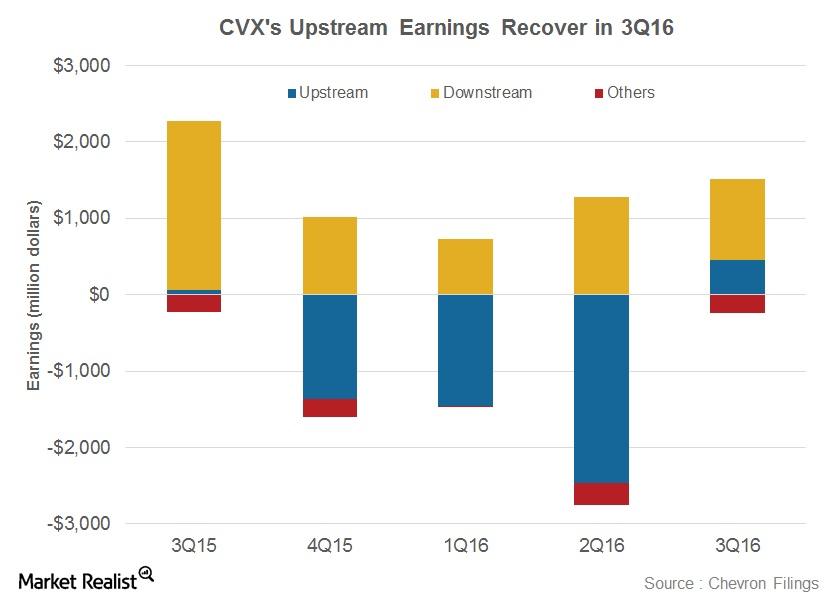 Chevron's 4Q16 Segmental Outlook: Is It Positive?
Chevron's segmental analysis in 3Q16
Before we proceed with Chevron's 4Q16 segmental outlook, let's have a look at its 3Q16 segmental performance.
Chevron's (CVX) earnings improved in 3Q16 compared to 3Q15. The Upstream segment, which reported a loss in the past three quarters, turned a profit in 3Q16. CVX's Upstream segment reported a rise in its earnings to $454 million in 3Q16 from a loss in 2Q16.
Chevron's (CVX) Downstream segment saw its earnings fall 52% YoY to ~$1.1 billion in 3Q16. This was due to the decline in refining margins in the US segment in 3Q16 over 3Q15. In 3Q16, CVX had lower earnings from its stake, around 50%, in Chevron Phillips Chemical Company.
Article continues below advertisement
Chevron's peers ExxonMobil (XOM), Total (TOT), and Suncor Energy (SU) have also seen their contributions from segmental earnings change. ExxonMobil's Upstream segment, which contributed 32% of its total earnings in 3Q15, declined to 23% in 3Q16. Total's net adjusted operating earnings from its Upstream segment fell 21% from 3Q15 to $0.88 billion in 3Q16.
However, Suncor's (SU) Oil Sands segment, which had been posting operating losses until 2Q16, turned profitable in 3Q16. The iShares North American Natural Resources ETF (IGE) has ~22% exposure to the industry.
Chevron's 4Q16 segmental outlook
Chevron (CVX) is likely to witness a rise in its Upstream and Downstream earnings in 4Q16 over 4Q15. WTI (West Texas Intermediate) and Brent prices, which averaged $42 per barrel and $45 per barrel in 4Q15, rose to $49 per barrel and $51 per barrel, respectively, in 4Q16.
Similarly, the Henry Hub natural gas prices have risen from $2.20 per MMBtu (million British thermal units) in 4Q15 to $3.20 per MMBtu in 4Q16. This rise in crude oil and natural gas prices suggests a likely rise in the company's Upstream earnings in the fourth quarter.
Plus, earnings from the Downstream segment are also likely to be better because the cracks have widened in 4Q16 compared to 4Q15. A case in point is the broader market crack indicator—the US Gulf Coast WTI 321 crack—which has risen from $11 per barrel in 4Q15 to $13 per barrel in 4Q16.
In our view, an improved refining environment could lead to higher earnings from Chevron's Downstream segment in 4Q16 over 4Q15.
Quarter-over-quarter, crude oil prices rose in 4Q16, but USGC crack has fallen marginally.