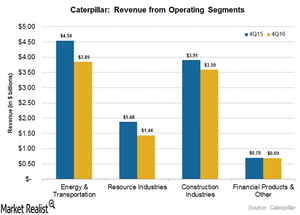 How Did Caterpillar's Operating Segments Fare in 4Q16?
By Sheldon Krieger

Jan. 31 2017, Updated 2:05 p.m. ET
Caterpillar's operating segments
Caterpillar's (CAT) operating segments include Machinery, Energy & Transportation, and Financial Products. Sales within the Machinery segment include revenues from the company's Resource Industries and Construction Industries streams, corporate items, and eliminations.
Article continues below advertisement
Energy & Transportation segment
For 4Q16, Caterpillar (CAT) reported revenues from its Energy & Transportation (E&T) business of ~$3.9 billion compared to ~$4.5 billion in 4Q15. The decrease in revenues primarily resulted from a drop in its sales volume on a YoY (year-over-year) basis.
The company witnessed a significant 26% drop in its E&T segment's sales in EAME (Europe, Africa, and Middle East), which was followed by a 16% drop in Latin America. Also, lower price realizations and currency translation headwinds had a negative impact on the company's Energy & Transportation segment's revenues in 4Q16.
Resource Industries segment
Of all the business streams, Caterpillar's Resource Industries business witnessed a major 23% decline in sales on a YoY basis in 4Q16. Revenues from this segment came in at ~$1.4 billion compared to ~$1.9 billion in 4Q15. Lower sales volumes and unfavorable price realizations resulted in lower revenues from this segment.
Article continues below advertisement
Construction Industries segment
Sales from CAT's Construction Industries segment totaled ~$3.6 billion in 4Q16, an 8% decrease of $316 million on a YoY basis. According to the company's filings, sales declined for new equipment and were about flat for aftermarket parts. Notably, the segment's sales in the Asia-Pacific region rose 41% due to the increase in end-user demand, primarily in China.
Financial Products segment
Caterpillar's revenues from its Financial Products segment, after considering corporate items and eliminations, segment was marginally down to $689 million from $712 million during the same period in 2015.
According to company filings, the decrease in revenues was primarily due to lower average earning assets in North America and Latin America, an unfavorable impact from returned or repossessed equipment primarily in North America, and lower average financing rates in Latin America. These decreases were partially offset by higher average financing rates in North America.
Next, we'll look into Caterpillar's regional sales figures for 4Q16.