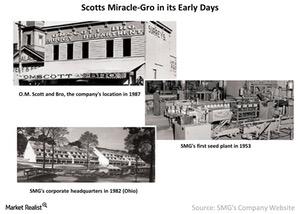 Scotts Miracle-Gro's Century-Old History
By Adam Jones

Dec. 30 2016, Updated 4:29 p.m. ET
The history
The Scotts Miracle-Gro Company (SMG) dates back to 1868. Conceived by Orlando McLean Scott, it aimed to give farmers weed-free and clean fields. In 1907, Scott's son, Dwight, saw an opportunity in lawns playing a role in the American lifestyle. Therefore, the company started selling grass seeds, which replaced lower quality grass starters such as haymow.
Article continues below advertisement
Expanding products
In 1928, the company recognized that grass seed alone was not enough for a better lawn. It introduced fertilizer under the name Turf Builder, which is still sold. In the late '40s, the company introduced a combined fertilizer and weed control product for convenient application.
In the early '50s, the company opened an automated seeds processing and packaging plant, pictured above, and sold boxed seeds. Later, in the same decade, the company started selling weed protection chemicals.
Expanding markets
In the '60s, the company introduced and sold programs on growing lawns. It opened a training institute to teach how to grow better lawns and opened a separate division to serve the golf market. The company also forayed into the European market, starting with West Germany
In the '70s, the Golf Course division was used as a foundation to create the Proturf division, which served the lawn and gardening requirements of professional markets. Scotts's privately owned business was purchased by ITT, an international conglomerate. However, in 1986, it was bought back through a leveraged buyout. In the late '70s, the company introduced its products to the Canadian market. Companies (SOIL) such as Central Garden & Pet (CENT), Spectrum Brands (SPB), and Seaboard (SEB) are active in some of the above markets.
Going public
In 1992, the company went public and opened at $19 per share on the NASDAQ. The name Miracle-Gro comes from merging with a company by that name in 1995. Scotts started trading on the New York Stock Exchange in 1995 with SMG as its symbol. In 2005, the company's name was changed to The Scotts Miracle-Gro Company.