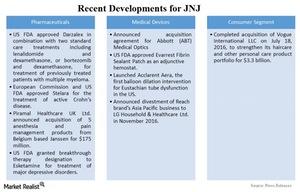 Recent Developments at Johnson & Johnson
By Mike Benson

Updated
Recent developments
As we discussed earlier, Johnson & Johnson's (JNJ) 3Q16 segment-wise performance was positive at the operational level across all segments, including Pharmaceuticals, Consumer, and Medical Devices segments.
However, the Consumer segment reported a decline in revenues, as the negative impact of foreign exchange more than offset the operational growth. The major developments for JNJ during 3Q16 include the following:
Article continues below advertisement
Pharmaceuticals segment
Some recent developments for the Pharmaceuticals segment are as follows:
On November 21, 2016, the FDA approved Darzalex in combination with two standard care treatments, including lenalidomide and dexamethasone (or bortezomib and dexamethasone), for the treatment of previously treated patients with multiple myeloma.
On November 15, 2016, the European Commission approved Stelara for the treatment of active Crohn's disease.
On October 10, 2016, Piramal Healthcare UK Ltd. announced the acquisition of five anesthesia and pain management products from Belgium-based Janssen for $175 million. The products include Sublimaze, Sufenta, Rapifen, Dipidolor, and Hypnomidate brands.
The FDA granted breakthrough therapy designation to Esketamine for the treatment of major depressive disorders.
The FDA approved label expansion of Invokamet as a first-line treatment for the patients with type 2 diabetes.
The FDA approved Stelara for the treatment of the patients with active Crohn's disease.
Medical Devices segment
Johnson & Johnson announced the acquisition agreement for Abbott (ABT) Medical Optics.
On October 25, 2016, the FDA approved Evarrest Fibrin Sealant Patch as an adjunctive hemostat to be used to stop bleeding during surgeries.
Johnson & Johnson launched Acclarent Aera, the first balloon dilation intervention for Eustachian tube dysfunction in the US.
Johnson & Johnson announced divestment of Reach brand's Asia-Pacific business to LG Household & Healthcare Ltd. in November 2016.
Consumer segment
Johnson & Johnson's (JNJ) Consumer segment completed the acquisition of Vogue International LLC on July 18, 2016, to strengthen its Hair Care and Other Personal Care product portfolio. The deal was worth $3.3 billion.
Abbott's (ABT) Humira competes with JNJ's Stelara, while Bristol-Myers Squibb's (BMY) and Pfizer's (PFE) Eliquis competes with JNJ's Xarelto.
Investors can consider the PowerShares S&P 500 Momentum Portfolio ETF (SPMO), which holds 7.6% of its portfolio in Johnson & Johnson.