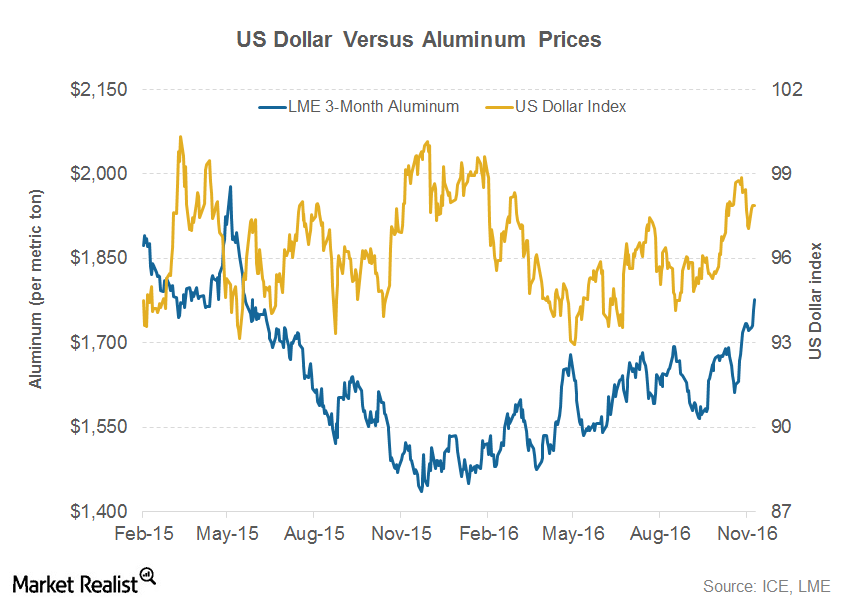 What Could a Stronger US Dollar Mean for Alcoa?
By Mohit Oberoi, CFA

Dec. 4 2020, Updated 10:52 a.m. ET
Stronger US dollar
One possible repercussion of the rate hike could be more appreciation of the US dollar. Commodity prices tend to have an inverse correlation with the US dollar. When the dollar gains, commodities tend to fall and vice versa. The reasoning behind this relationship is straightforward. Since most commodities are priced in the US dollar, a strong dollar makes commodities relatively costlier in other currencies.
Aluminum isn't different from other commodities that have a negative correlation to the US dollar. The strengthening US dollar could have a negative impact on aluminum prices.
We should note that aluminum producers' earnings such as Rio Tinto (RIO), Century Aluminum (CENX), and Norsk Hydro (NHYDY) are sensitive to aluminum prices.
Article continues below advertisement
Impact on Alcoa
Notably, before the split (ARNC), the US dollar had a mixed impact on Alcoa's earnings. The dollar's strength had a negative impact on Alcoa's value-add business. The business gets a major portion of its revenue from Europe. It's impacted negatively by a stronger US dollar.
However, the rising US dollar has a positive impact on Alcoa's upstream business (AA). Some of the aluminum that Alcoa sells in the US is produced outside the country. Alcoa shut down several of its US smelters in the last few years.
Earnings
Since Alcoa has split into two entities, a stronger US dollar could be positive for Alcoa's earnings. However, investors still need to watch how the stronger US dollar impacts aluminum prices.
In the next part, we'll see how higher interest rates could impact Alcoa's leverage metrics.