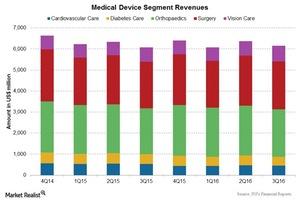 Johnson & Johnson's Medical Devices Segment in 3Q16
By Mike Benson

Updated
Medical Devices segment
Johnson & Johnson's (JNJ) Medical Devices segment grew ~1.1% to ~$6.2 billion for 3Q16 compared to 3Q15. This included an operational increase of 0.7% and the positive impact of foreign exchange.
Article continues below advertisement
Cardiovascular Care franchise
In 3Q16, Johnson & Johnson's Cardiovascular Care franchise sales fell 13.9% to $451 million. This decline was due to the divestiture of the Cordis business in 4Q15, partially offset by an increase in its Electro-Physiology business and the ThermaCool Smart Touch Contact Force Sensing catheter.
Diabetes Care franchise
JNJ's Diabetes Care franchise sales fell 9.1% to $427 million for 3Q16, due to pricing pressure and competition from new pumps in the market. The revenue drivers from Diabetes Care include the Animas Vibe insulin pump, as well as volume growth of its self-monitoring blood glucose (or SMBG) devices. The revenues were impacted by lower prices of SMBG devices in the US markets.
Article continues below advertisement
Orthopedics franchise
Johnson & Johnson's (JNJ) Orthopedics franchise reported a 3.2% increase in revenues to ~$2.3 billion during 3Q15, driven by growing revenues for its Hips, Knees, Trauma, and Spine products. These revenues included a 3.2% operational increase.
Overall revenues for Knees and Hips products improved during the quarter due to strong sales of the Attune Knee System and primary stem platform. Among its other products, Orthovisc, Monovisc, and the trauma product TFN Advanced Nail had a strong performance during the quarter.
Surgery franchise
JNJ's Surgery franchise sales increased 2.9% to ~$2.3 billion for 3Q16, driven by increased sales of endocutters, biosurgical and energy products in the Advanced Surgery franchise, increased sales of sutures in the General Surgery franchise, and strong sales of mentor products in the Specialty Surgery franchise. The revenue increase includes an operational increase of 2.9%.
Vision Care franchise
Johnson & Johnson's (JNJ) Vision Care franchise sales rose 8.2% to $739 million during 3Q16, following the strong performance in all major worldwide markets. On an operational basis, the revenue growth for this franchise was 5.5%.
Other major medical device companies include Medtronic (MDT), Boston Scientific (BSX), Stryker (SYK), and Zimmer Holdings (ZMH). Investors can consider ETFs like the iShares Edge MSCI Multifactor Healthcare ETF (HCRF), which holds 9.4% of its portfolio in JNJ.