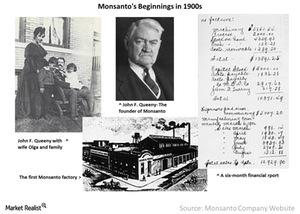 Monsanto's History Dates Back to 1901
By Adam Jones

Updated
History
Monsanto's (MON) history dates back to 1901, when John F. Queeny founded it. The name Monsanto came from his wife, Olga Monsanto Queeny. It was only in the 1960s that the company established an Agricultural division.
Article continues below advertisement
Herbicide and research
In 1964, Monsanto introduced its first herbicide by the name of Ramrod. Four years later, in 1968, the company commercialized an herbicide called Lasso.
In the 70s, the company established its first research program on cell biology. In 1976, its famous Roundup herbicide was commercialized in the United States. Scotts Miracle-Gro Company (SMG) is one of the exclusive distributors of Roundup to the US consumer lawn and gardening market.
The beginning of GMOs
In the 80s, Monsanto established its first molecular biology group, with a strategic focus on biotechnology as a business for the future. 1982 was the first year in which Monsanto's scientists genetically modified a plant cell. This achievement was the beginning of genetically modified organisms (or GMOs). Later, in 1987, the company conducted a field trial with GMO plants—also known as plants with biotechnological traits.
Article continues below advertisement
Approval of GMOs
In 1994, Monsanto received its first regulatory approval of biotechnology products in the United States, and the company began selling them. In 1996, the company developed Roundup-ready soybeans and bollard cotton seeds capable of protecting themselves from damaging agents. In 1997, the company introduced similar seed products for corn and canola while further enhancing its cotton seeds.
Monsanto continued to innovate and enter new markets by introducing hybrid corn for higher ethanol yields in 2002. In 2005, a billionth acre was planted and harvested with a biotechnology crop.
Changing hands
The original company entered into a merger, and its name was changed to Pharmacia Corporation. Later in 2002, the company was spun off to be a different company.
Monsanto is among the top companies in the agricultural space (MOO) along with Syngenta (SYT), FMC (FMC), and Dow Chemical (DOW). 
Currently, Monsanto is present in several countries, directly or indirectly, across the globe. Read on to know more about Monsanto's geographic reach.