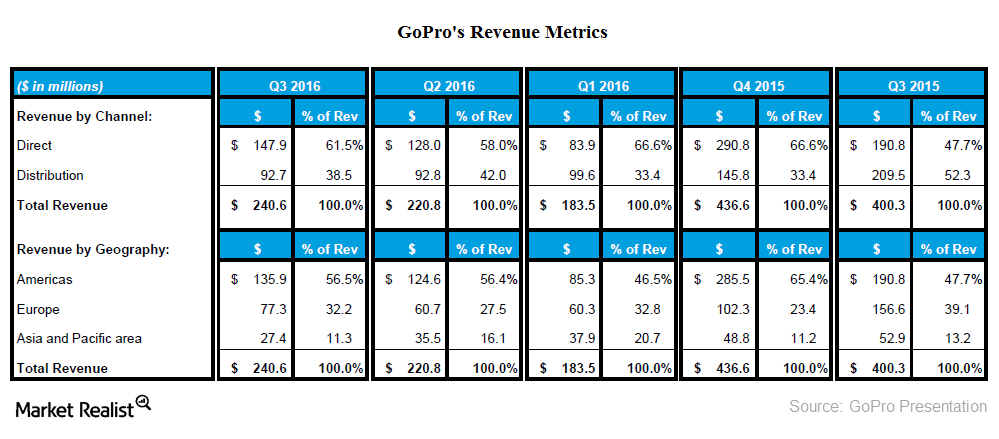 Inside GoPro's Major Markets
GoPro continues leadership in North America and Europe
According to NPD Group's retail tracking service, GoPro (GPRO) accounted for three out of the top five products on a unit basis in the combined digital camera and camcorder segment in the US in 3Q16. The HERO4 Silver was the number one product on a unit basis for the eighth consecutive quarter, whereas the Session was the second-best selling camera in the US (SPY) in 3Q16 for the third consecutive quarter.
Market research firm GfK stated that GoPro's digital imaging unit share in Europe (FEP) rose 200 basis points YoY (year-over-year) to 11% in 3Q16. The company's HERO4 Silver shipments rose 14% quarter-over-quarter (QoQ) and GoPro accounted for four out of the top five camcorders on the continent.
Article continues below advertisement
GoPro President Anthony Bates stated: "By our estimates, in the third quarter HERO4 Silver was the top-selling camera for the eighth consecutive quarter. And with three weeks of data, unit sell-through for HERO5 Black in Europe was 45% higher than HERO4 Silver and Black combined during the same period in 2014."
GoPro's performance in Asia
According to GfK, GoPro's unit sell-through rose 125% YoY and 67% QoQ in Japan in 3Q16. (Sell-through refers the percentage of units shipped that are actually sold.) GoPro's share in Japan's action camera segment rose ten points YoY to 41% in 3Q16. The firm also plans to introduce the HERO5 Black in India (INDA) during December 2016, partnering with retail chains like Reliance and Stereovision.
The US and Americas accounted for 57% of GoPro's total 3Q16 revenues, followed by Europe, the Middle East, and Africa (EMEA) at 32%, and Asia-Pacific (APAC) at 11%.