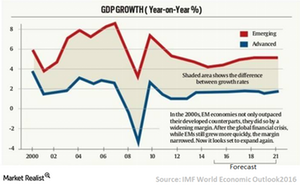 Emerging Market Economic Growth Outpaced Developed Markets
By Peter Barnes

Dec. 6 2016, Updated 1:35 p.m. ET
Rapid growth
In recent years, emerging markets have experienced rapid economic growth compared to developed markets. Despite many concerns, FocusEconomics' data showed that emerging economies grew 4% in 2015 and are projected to grow a further 4% in 2016. This growth rate is much faster than developed economies. According to the IMF, economic growth in emerging markets will likely increase consistently over the next five years while growth in developed economies will likely remain depressed.
Article continues below advertisement
Better performance from emerging biggies
Strong growth isn't limited to smaller emerging countries. Bigger economies, like India and China (FXI), are also expected to show decent growth. Moody's Investors Service expects India to record growth of 7.5% this year. China, meanwhile, is expected to grow 6.6% due to strong fiscal support and reform measures.
Currently, emerging markets (SCHE) account for around 60% of global GDP, up from 49% a decade ago. According to estimates, emerging markets as a group will account for around 70% of global growth during the next few years, with China and India encompassing 40% of that growth.
Higher opportunities
The rapid growth in emerging markets (EEM) (VWO) is attracting higher domestic and foreign investments, which led to the establishment of new industries, creating more jobs, and the growth of massive middle-class consumers. According to McKinsey Global Institute, annual consumption in emerging markets (EMQQ) will rise to a whopping $30 trillion by 2025 compared to $12 trillion in 2010. During the same period, emerging markets' share of world consumption will increase from 32% to 47%—a huge gain. Consequently, companies in emerging markets are finding ample opportunities to grow their business compared to companies in developed markets.