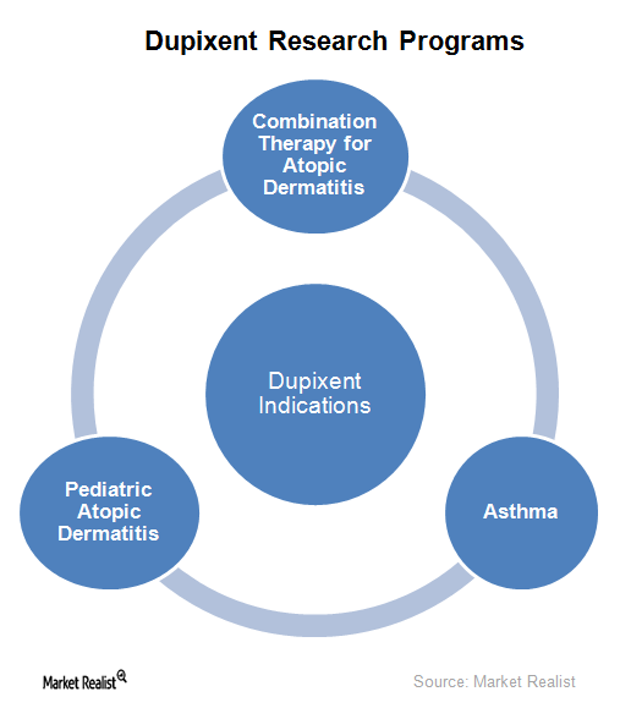 Dupixent Is Being Explored for Multiple Indications in 2016
Multiple indications
In addition to being explored as a monotherapy for AD (atopic dermatitis), Regeneron (REGN) and Sanofi (SNY) are also researching Dupixent (Dupilumab) for other indications. Dupixent is expected to enable Regeneron reduce its over-reliance on Eylea's revenues. It will enable Regeneron to pose strong competition to other biotechnology players such as Biogen (BIIB) and United Therapeutics (UTHR).
Article continues below advertisement
Combination therapy for AD
On June 6, 2016, positive results from a Phase 3 study, LIBERTY AD CHRONOS, demonstrated that a combination therapy of Dupixent with TCS (topical corticosteroids) was more effective in treating patients suffering from moderate to severe AD compared to those treated only with TCS. The patients enrolled in the study were inadequate responders to TCS therapy. Dupixent is also being studied as a combination therapy with TCS in another Phase 3 study, LIBERTY AD CAFÉ. The trial focuses on AD patients who don't respond adequately to or aren't able to tolerate oral cyclosporine.
The results combined with positive results from Phase 3 trials, SOLO 1 and SOLO 2, are expected to boost the chances of Dupixent securing FDA approval. Regeneron also planned to submit applications in Europe and Japan seeking approval for Dupixent as an AD therapy.
If Dupixent gets approved by the FDA for AD, it could have a positive impact on Regeneron's share prices as well as those of the Vanguard Total Stock Market ETF (VTI). Regeneron accounts for about 0.15% of VTI's total portfolio holdings.
Pediatric AD patients
In 1Q17, Regeneron and Sanofi also plan to study Dupixent as a therapy for pediatric patients in the 12–17 age group suffering from severe AD. The drug secured breakthrough therapy designation from the FDA for this indication.
Article continues below advertisement
Asthma indication
On May 18, 2015, Regeneron and Sanofi announced positive interim results from the Phase 2b trial. It evaluated the efficacy and safety of Dupixent in adult patients suffering from moderate to severe asthma. The enrolled patients didn't respond to previous therapies involving inhaled corticosteroids and long-acting beta agonists. The trial may be one of the two pivotal studies to establish the efficacy of the drug and form part of Dupixent's BLA (biologics license application) for asthma indication.
In September 2016, Regeneron and Sanofi completed the enrollment of human subjects for the Phase 3 trial evaluating Dupixent in asthma indication. The BLA for this label is expected to be submitted to the FDA in late 2017. Regeneron and Sanofi also plan to explore the use of Dupixent for pediatric asthma patients in 2017.