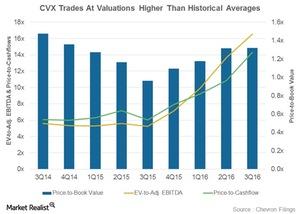 CVX Is Trading at Higher Valuations than Its Historical Averages
By Maitali Ramkumar

Dec. 19 2016, Updated 9:05 a.m. ET
Price-to-book value
In this article, we'll evaluate Chevron's (CVX) historical valuation trends. Let's start by looking at its price-to-book value (or PBV) multiple.
Chevron traded at an average PBV multiple of 1.2x from 3Q14 to 3Q16. Volatile oil prices led to many projects becoming unviable for integrated energy companies such as Chevron. This volatility resulted in impairments in upstream segments, affecting the book values of these companies. Examining PBV can provide a glimpse of CVX's market value compared to its book value.
CVX's PBV multiple fell from 1.5x in 3Q14 to 1x in 3Q15 due to a fall in its stock price during the period. However, from 3Q15 to 3Q16, CVX's stock price rose, whereas its book value per share fell. This resulted in a rise in the company's PBV multiple from 1x in 3Q15 to 1.3x in 3Q16.
Article continues below advertisement
Currently, Chevron is trading at a PBV multiple of 1.5x, higher than its historical average. CVX's peers YPF (YPF), Eni (E), and PetroChina (PTR) are currently trading at PBV multiples of 0.9x, 1.1x, and 0.7x, respectively. For exposure to value stocks, you may want to consider the iShares Russell 1000 Value ETF (IWD). The ETF has ~14% exposure to energy sector stocks.
Chevron's EV-to-EBITDA and price-to-cash flow
From 3Q14 to 3Q16, Chevron's EV-to-adjusted EBITDA (enterprise value to adjusted earnings before interest, tax, depreciation, and amortization) and price-to-cash flow ratios stood at averages of 8.2x each. In 3Q16, Chevron's EV-to-EBITDA and price-to-cash flow saw highs of 16.5x and 14.3x, respectively. In the past four quarters, CVX's lower EBITDA has resulted in falls in its earnings and cash flows, resulting in higher valuations.
Why is Chevron trading at valuations higher than its historical averages?
Chevron is trading at higher valuations than its historical averages because its stock price hasn't fallen as steeply as the fall in its earnings. Investors are holding on to the stock despite the fall in its earnings, likely because they expect revenue growth from Chevron's key projects to kick in soon.
The company's aim to improve its liquidity position by cutting costs, optimizing capital expenditure, and divesting non-fit assets is likely enhancing investors' confidence.