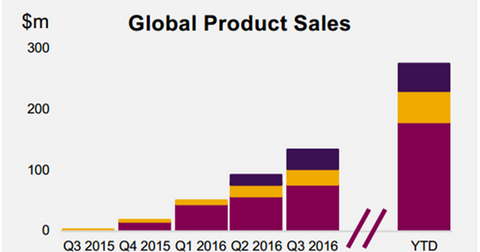 AstraZeneca's Tagrisso Had a Strong Commercial Launch in 2016
By Margaret Patrick

Updated
Tagrisso's approval
On November 13, 2015, the FDA (U.S. Food and Drug Administration) approved AstraZeneca's (AZN) Tagrisso as a therapy for patients suffering with metastatic epidermal growth factor receptor (or EGFR) T790M mutation-positive non-small cell lung cancer (or NSCLC) and have witnessed disease progression on or after receiving EGFR tyrosine kinase inhibitor (or TKI) therapy. This variant of lung cancer is diagnosed using an FDA-approved test.
Article continues below advertisement
Revenue trends
After its commercial launch in 41 countries, including the United States, Japan, and European Union countries, Tagrisso has witnessed a solid uptake. It has managed to earn revenues of $276.0 million in 2016 on a year-to-date (or YTD) basis. About 2,400 patients are currently being treated with Tagrisso.
If Tagrisso continues its solid growth trend, it may have a positive impact on the share prices of AstraZeneca and the Vanguard Total International Stock ETF (VXUS). AstraZeneca makes up about 0.15% of VXUS's total portfolio holdings.
Growth drivers
AstraZeneca has filed an application to secure regulatory approval for Tagrisso in China. China has the highest population of EGFR T790M mutation-positive NSCLC patients in the world. The country offers a strong growth opportunity for Tagrisso. AstraZeneca anticipates the launch of Tagrisso in China in the second half of 2017.
In the US market, T790 mutation testing is conducted in more than 40.0% of the eligible patient population. The diagnosis rates are expected to increase since the National Comprehensive Cancer Network (or NCCN) has recommended T790 mutation testing for EGFR-mutated NSCLC patients.
On September 29, 2016, the FDA also approved a less invasive diagnostic test, a circulating tumor DNA (or ctDNA) test to confirm T790M mutation in EGFR-mutated NSCLC patients. The test can be performed by either checking the patient's tissue or blood sample. Since the test can give results based on blood samples, it can be given to patients who aren't suitable for a tumor biopsy. With Tagrisso, AstraZeneca can pose strong competition to other lung cancer players such as Merck & Co. (MRK), Bristol-Myers Squibb (BMY), and Roche Holdings (RHHBY).
In the next part of this series, we'll look at AstraZeneca's efforts to expand the Tagrisso label.