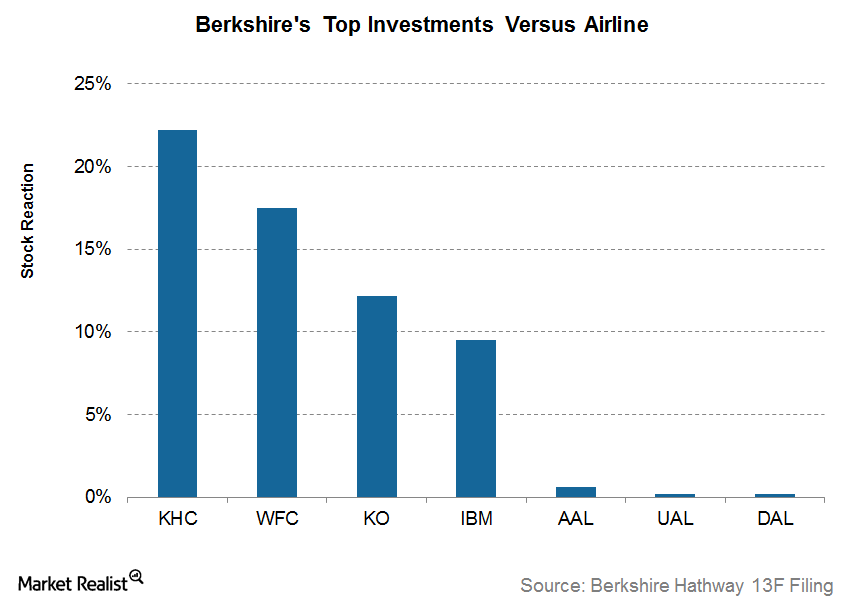 Why Is American Airlines Warren Buffett's Top Pick?
Buffett invests in airline stocks
Berkshire Hathaway's (BRK-B) November 2016 13F filing attracted considerable interest for airline investors. The 13F revealed Warren Buffett's new investments in the airline sector—a sector the Berkshire Hathaway CEO had written off during the past decade.
In 3Q16, Berkshire Hathaway bought almost $800 million in American Airlines (AAL) stock and ~$300 million each in Delta Air Lines (DAL) and United Continental (UAL) stock. After the filing, Berkshire Hathaway also invested in Southwest Airlines (LUV).
Berkshire Hathaway's stakes form less than 1% of Delta Air Lines's shares, 1.4% of United Continental's shares, and 4.2% of American Airlines's shares. However, these three airlines form just 1% of Berkshire Hathaway's portfolio.
Article continues below advertisement
Why American Airlines?
On the face of it, Delta Air Lines may seem to be a better match to Buffett's investment philosophy, while American Airlines is furthest from his philosophy. With the exception of Southwest Airlines, Delta Airlines has the strongest balance sheet among the three legacy players while American Airlines has the weakest balance sheet.
Delta Air Lines's free cash flow generation is also higher. American Airlines's net margins are also lower than Delta's margins. At the end of 3Q16, American Airlines had net margins of 7% compared to Delta's 12%.
However, at EBITDA[1. earnings before interest, tax, depreciation, and amortization] levels, both carriers have similar margins. Plus, American Airlines is engaged in significant capital investment, replacing old aircraft with new equipment. After these events occur, the airline's maintenance and fuel costs should decrease.
Buffett seems to be investing in the airline industry rather than in a single airline stock. The same group of firms own ~40%–45% of all airline stocks, which implies lower pricing discounts and controlled capacity growth.
The other reason for this investment seems to be a bet on fuel, as most investors don't expect fuel prices to rise to the previous high levels, given the current oversupply situation.
Investors can gain exposure to AAL by investing in the PowerShares Dynamic Large-Cap Value Portfolio ETF (PWV), which invests 1.4% of its portfolio in AAL.