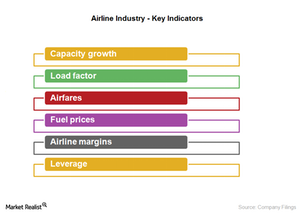 What Should Airline Industry Investors Look Out for in 2016?
Capacity growth and utilization
Growing capacity is necessary for revenue growth. However, capacity expansion that exceeds demand growth can lead to declining utilization, which would mean higher costs and a negative impact on yield.
Article continues below advertisement
Airfares
Declining load factors and unbridled capacity expansion could result in pricing wars in the industry, which was the case throughout 2015. If airfares fall, yields could fall further. On the other hand, if airlines can increase airfares further, yields could improve.
Fuel prices
Oil prices form a major cost component of airlines and the 50% decline in crude prices has helped improve margins. Analysts don't expect airlines to see significant incremental benefits from fuel costs. However, the greater risk is from increasing oil prices if the airlines cannot pass it on. Fuel prices have fallen tremendously and it's likely only a matter of time before crude will bounce back. On the other hand, a further decline in fuel prices would be positive for the industry.
Article continues below advertisement
Airline margins
Airline profitability has improved tremendously and is at its highest level historically. Analysts are also estimating that margins have peaked. Investors should thus keep a close eye on airline profitability and, more importantly, analysts' forecast for the industry's future margins.
Leverage
Industry fundamentals have improved tremendously in the last two years and seem to have little scope for further improvements. Reducing leverage at such a time would not only reduce interest costs, but also make companies with lower leverage a safer bet.
Investors can gain exposure to airlines by investing in the SPDR S&P Transportation ETF (XTN), which invests 30.1% of its portfolio in airlines such as American Airlines (AAL), United Continental (UAL), Delta Air Lines (DAL), and Southwest Airlines (LUV).
We'll provide regular updates on all the indicators mentioned above, so be sure to visit Market Realist's Airlines Page regularly.