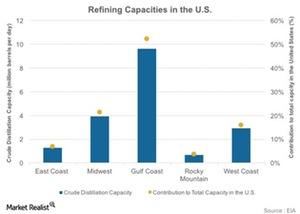 US Gulf Coast: The Largest Refining Region in the Country
By Maitali Ramkumar

Updated
US Gulf Coast
The chart below represents the regional refining capacities and their percentage contributions to the total refining capacity in the US. The total operating refining capacity in the US stood at 18.4 MM bpd (million barrels per day) in August 2016.
The Gulf Coast, a key US refining region, accounted for 9.6 MMbpd of total refining capacity, which represents 52% of the total refining strength in the country. Texas and Louisiana contributed 30% and 20%, respectively, to the total refining capacity in the country.
Article continues below advertisement
The main reason that refineries concentrate on the Gulf Coast is that the region is a gateway for imported oil and exporting refined products. It's also a key area of exploration and production activities. Having a refining capacity in the region provides locational benefits like easy access to produced oil and transportation infrastructure.
Refiners' Gulf presence
This holds true for Marathon Petroleum (MPC), which has the bulk of its refining operations on the Gulf Coast. Out of its total 1.8 MMbpd refining capacity in the US, MPC has more than 1 MMbpd of the capacity located in Texas and Louisiana. MPC's remaining US capacities are based in the Midwest.
Phillips 66 (PSX) also has major refining operations on the Gulf Coast. PSX has 0.74 MMbpd (of its total 2.2 MMbpd) of its refining capacity located in the region, where the company also has a major upcoming petrochemical project. Valero Energy (VLO) has around 1.7 MMbpd in refining capacity on the Gulf Coast.
The concentration of refining capacities in this region implies that tracking the refining activities in there can provide useful hints about the near-term performance of all US refiners.
Midwest and West Coast
Tesoro (TSO) has significant refining operations on the West Coast and in the Midwest, and PSX has a significant presence in the West. These two regions contribute 21% and 16%, respectively, of the total refining capacity in the US.
If you're looking for exposure to refining sector stocks, you can consider the iShares US Energy ETF (IYE), which has ~7% exposure to the sector.