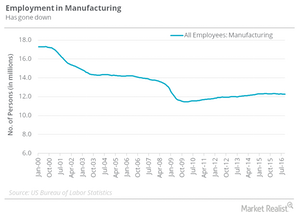 Why Krugman Doesn't Understand the Focus on Trade All of a Sudden
Why the spotlight on trade now?
Trade has been a key focus with respect to the US elections lately. With Hillary Clinton's plans to support free trade and Donald Trump's wanting to make big changes to US trade agreements such as NAFTA[1. North American Free Trade Agreement] and the TPP,[2. Trans-Pacific Partnership] an economist's view on the subject demands particular attention.
Nobel laureate Paul Krugman doesn't understand why the issue with trade has been in focus only recently, as it has been an ongoing issue. The impacts of trade on the economy have been seen for quite a while. Blue collar workers in the US (SQQQ) (SDS) (TZA) have been hurt by the US's trade agreements for decades now, says Krugman. He thinks that trade is becoming a big deal now that most manufacturing (XLI) (DIA) jobs are already gone.
Article continues below advertisement
Article continues below advertisement
Is trade alone responsible for job losses?
What Krugman wanted to point out here was that dealing with the issue may have made more sense when its impact had just begun to be felt. However, with the economy already accustomed to the impact of these trade deals and manufacturing jobs already gone, it doesn't change much to bring up the issue at this point. It just seems like an attempt to raise and feed the anxiety around it.
Moreover, often these job losses or job relocations don't have much to do with trade. Sometimes it's just more about technological advancement or about change in working class incomes. "Trade is easy focus," says Krugman, which is why it gained prominence in the 2016 US elections.
Krugman is also particularly critical of Trump's infrastructure plan.