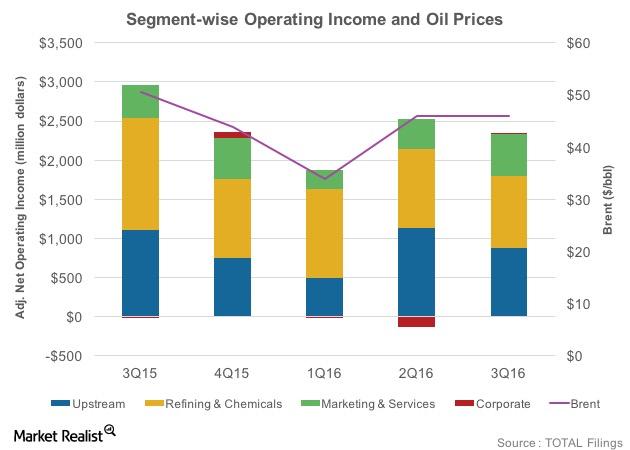 Analyzing Total's Segmental Earnings in 3Q16
Total's Upstream earnings
Total's net adjusted operating earnings from the Upstream segment fell 21% from 3Q15 to $877 million in 3Q16. The earnings fell due to lower crude oil prices. It was partially offset by increased hydrocarbon production and reduced operating costs. Brent prices, which averaged $51 per barrel in 3Q15, fell to $46 per barrel in 3Q16.
Article continues below advertisement
Total's Downstream earnings
Total's Downstream segment's operating income fell 36% from 3Q15 to $917 million in 3Q16. The fall in Total's Downstream earnings in 3Q16 was due to lower refining utilization rates and a fall in refining margins YoY.
Total's refinery throughput reduced due to higher maintenance activities and the sale of the Schwedt refinery in 4Q15. Total's European refining margin indicator fell 53% from 3Q15 to $25.5 per metric ton in 3Q16.
Total's marketing and services net adjusted operating income rose 29% from 3Q15 to $545 million in 3Q16. It was led by a higher contribution from New Energies offsetting the impact of asset sales in the segment.
While Total's overall net adjusted operating earnings fell from $2.9 billion in 3Q15 to $2.4 billion in 3Q16, all of the segments posted positive earnings. The iShares North American Natural Resources ETF (IGE) has ~22% exposure to integrated energy stocks.