Qunar Is Going Private: How Does It Affect Investors?
In June 2016, Qunar (QUNR) received an initial proposal from private equity firm Ocean Management.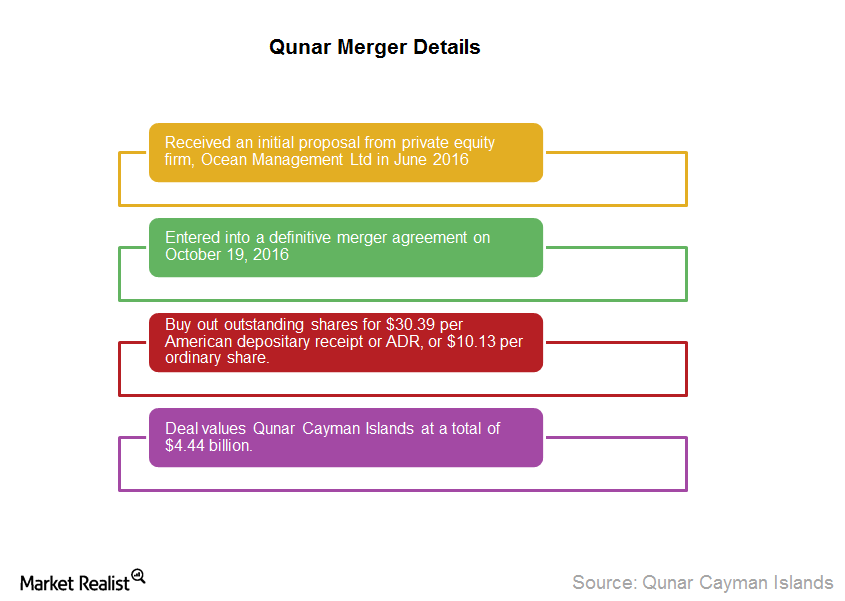 Deal snapshot
In June 2016, Qunar (QUNR) received an initial proposal from private equity firm Ocean Management. The firm proposed to buy out the remaining outstanding shares of Qunar for $30.39 per American depository receipt (or ADR), or $10.13 per ordinary share. This price was a 15% premium to Qunar's June 22 closing price.
On October 19, 2016, Qunar announced that it had entered a definitive merger agreement with Ocean Management. The merger is expected to close in the first half of 2017. The deal values Qunar Cayman Islands at a total of $4.4 billion.
Article continues below advertisement
Article continues below advertisement
Earlier in 2016, Ctrip.com, China's leading OTA (online travel agency) player, acquired a significant minority stake in Qunar. Together, both these players control almost 80% of the online travel market in China. The deal put an end to the intense bidding war among OTA players, thus making the industry viable.
What does it mean for investors?
According to Qunar's statement, "The Rollover Shareholders have agreed to vote all of the Shares and ADS' they beneficially own, which represent approximately 94.3% of the voting power of the Shares outstanding as of the date of the Merger Agreement, in favor of the authorization and approval of the Merger Agreement and the merger." This means that the merger will most probably be completed. Once the merger is complete, Qunar will be completely owned by Ocean Management and no longer trade on Nasdaq.
Investors who bought the stock after the stock's fall in June can expect a return of ~15% on their investment, as Ocean Management proposes to buy the outstanding shares at a 15% premium on the June 22 closing price. However, investors who bought the stock at its high in early 2016 can expect to see a loss.
Qunar directly competes with Ctrip.com (CTRP), who is now QUNR's major stakeholder. Priceline (PCLN), the US's leading OTA player, has a stake in CTRP. Expedia (EXPE) is also trying to gain foothold in the Chinese OTA industry. Investors can gain exposure to the Chinese OTA market by investing in the PowerShares Golden Dragon Halter USX China ETF (PGJ).