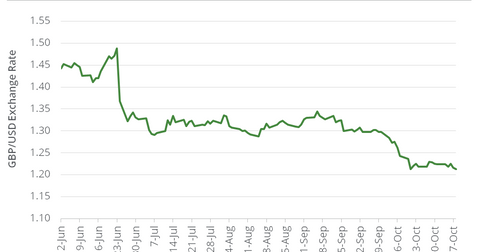 Paul Krugman: Not the Time to Hike Rates in Great Britain
By Surbhi Jain

Updated
Paul Krugman wouldn't have voted for Brexit
Paul Krugman is among those who believed that Brexit wouldn't affect the UK economy negatively. His prediction seems to have come true. Third quarter GDP readings from the United Kingdom (EWU) have exceeded market expectations. The markets are now evaluating whether the Brexit vote has actually helped the UK economy.
Krugman doesn't believe that Brexit is a good thing for Britain. Krugman would have personally voted for Britain to remain a part of the European Union (VGK) (FEZ). Britain did have its problems, but not all of them were related to the EU. However, he also said that Brexit wouldn't bring about a recession in Great Britain.
Article continues below advertisement
Krugman doesn't see a case for a rate hike in the UK
Regarding interest rates being raised in the economy pursuant to positive economic indicators flowing in from the region, Krugman said on Bloomberg that he doesn't see a case for hiking rates in the UK. He said the blip in the British inflation rate, as you can see in the chart above, is a result of a decline in the pound. The falling pound has made imports into the economy dearer, thus adding to inflation in general. However, when it comes to hiking rates, Krugman believes that there should be a certain level of core inflation. "Policy is still too tight everywhere, including Britain," said Krugman.
Britain still needs to have an expansionary bias, despite the fact that it hasn't fallen into recession, said the Nobel laureate. He bases this opinion on the fact that there's demand deficiency in Britain, as is the case with most developed markets (EFA) (VEA).