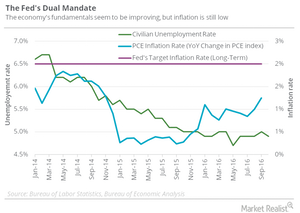 Paul Krugman to the Fed: Don't Raise Rates
Paul Krugman thinks the Fed should not raise rates
Article continues below advertisement
The Fed doesn't have the ammunition
According to Krugman, while uncertainty remains about when a recession or downturn will hit the US (SQQQ) (SDS), the question that we all should be asking is, "does the Fed have the ammunition to deal with it?" Krugman thinks the answer to this question is no because of the following factors:
For one, interest rates are already near zero, so the Fed cannot cut rates.
Inflation is low, so the possibility of cutting real rates (if a recession comes) would be ruled out.
Not this year and not the next
Krugman believes that the Fed shouldn't be acting as if everything is normal when actually it isn't. Inflation is moving up towards its target, but it still has a ways to go before it meets or exceeds the target. By raising rates in the US (SPY) (IWM) (QQQ), the Fed might just stop that from happening. It's like a boat that is about to reach the shore, but then suddenly drifts away.
Thus, Krugman's advice to the Fed is: "Don't raise rates this year. Don't raise rates next year."
For now, Krugman sees a Trump slump in the making.