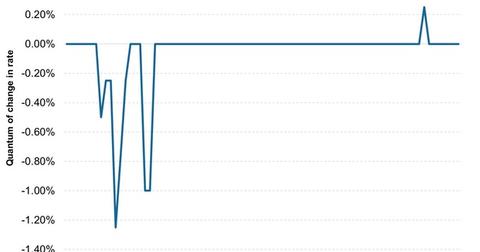 How the Next President Could Shape US Monetary Policy
By David Ashworth

Nov. 4 2016, Published 10:43 a.m. ET
Rate hike in December may not be certain
The Federal Reserve's second last meeting of 2016 is now over, leaving only one meeting left in which the central bank can enact a rate hike.
Though as of November 3, 2016, the CME FedWatch tool sees a 71.5% probability of a rate hike in 2016, there's a chance that a hike may not occur in the final FOMC (Federal Open Market Committee) meeting of the year.
The presidential election will have an impact on monetary policy, though not directly. Theoretically, the government shouldn't interfere in the workings of the central bank. However, it can influence monetary policy to some degree by appointing hawks or doves to the Fed's open board seats.
Article continues below advertisement
Hillary Clinton's impact on monetary policy
If Hillary Clinton wins the presidency, it's quite possible that individuals with dovish views will be appointed to the open seats. The Democrats may prefer to keep the pace of rate hikes in check in order to ensure that monetary policy isn't having an adverse impact on economic growth.
Donald Trump's impact on monetary policy
On the other hand, if Donald Trump is elected to office, individuals with hawkish views may be appointed to the open seats. Republicans have been critical of the Fed and have raised the issue of policymaker accountability several times in the past. With that in mind, it's quite possible that hawks may dominate the open seats and push for a faster pace of rate hikes.
Though a rate hike in December is very much in the cards, if there's an upset win and economic indicators disappoint, it's possible that the Fed could be forced to wait to hike rates.
Some market participants anticipate that a Republican win won't bode well for equities (VUG) (IVW). Investors, in that case, would seek the shelter of bonds (GOVT), driving yields down. High yield bonds (BKLN) (HYG) may see their yields rising.