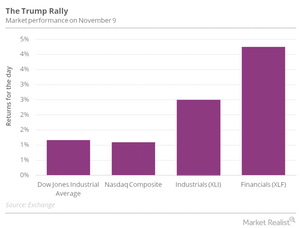 Gundlach: Invest in Industrials, Materials, Financial Sectors
Gundlach's sector picks
"Industrials, materials, and financials are the sectors. . .you want to be invested in," said Jeffrey Gundlach recently in a CNBC interview. These sectors have surged with Donald Trump's winning the 2016 US presidential election.
On November 9, 2016, industrials (XLI) rose 2.5%, and financials (XLF) rose 4.3%. The Materials Select Sector SPDR ETF (XLB) returned 2.1% on the same day. Stocks from these sectors have only moved north since then.
Gundlach does see a pullback coming from the levels financials and industrials reached in the week. Over the short term, "these big moves aren't justified," said Gundlach. Over the long term, however, Gundlach sees the sectors doing well.
Article continues below advertisement
Article continues below advertisement
Gundlach has turned bullish on these two asset classes
In the stock market, Gundlach's outlook has been negative on the financial sector for ten years. In the bond market, he's been negative on TIPS (Treasury Inflation Protected Securities) for ten years. In the last two months, however, Gundlach has said he's "turned very positive on both of them."
Gundlach has reallocated a significant amount of holdings from the bond portfolios he manages from nominal Treasuries to TIPS (TIP) over the last two months. His Flexible Income Fund now has a 100% allocation to TIPS, while about one-third of his Core Fixed Income Fund is allocated to TIPS.
Gundlach has also turned very positive on financials, citing two main reasons for his bullishness:
The yield curve has been steepening, which is positive for financials.
Trump's win means less regulation pressures on banks, which should be positive for financials.
Views on mortgage debt
Back in May 2016 at the Sohn Investment Conference, Gundlach's recommendation was to go long on the iShares Mortgage Real Estate Capped ETF (REM) and short on the Utilities Select Sector SPDR ETF (XLU). Read Jeffrey Gundlach: Buy Mortgage REITs, Short Utilities to know more. This trade is now over, and it has reaped investors a 30% return. Utilities have since fallen 5%, and REITs have risen 10%.
However, in the current market environment, when interest rates rise, Gundlach expects to see some correction in pricing in the housing market. A rise in yields and interest rates will be bad news for the mortgage market, which has been giving out mortgage loans at or below 3% all this time. With rates up, mortgage issuers are bound to lose money.