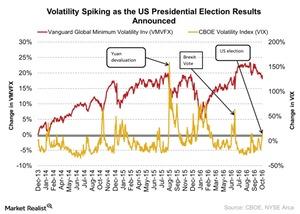 What Were the Immediate Impacts of Election Results on Markets?
By Sarah Sands

Nov. 9 2016, Updated 12:04 p.m. ET
US election results increased volatility
The US (SPY) (QQQ) presidential election results, which came out on November 9, 2016, in favor of Republican presidential candidate Donald Trump, contributed considerably to market uncertainty and price volatility.
The CBOE Volatility S&P 500 Index (VIX) has been rising during the past two weeks. Between October 20, 2016, and November 8, 2016, the index rose nearly 36%. On November 3, 2016, it actually rose ~13%, which shows that volatility is playing a major role in the investment scenario.
We've seen comparable events that led to heightened volatility in markets. In August 2015, for example, during China's (YINN) (MCHI) yuan devaluation, the CBOE Volatility Index (VIX) rose 143%. During the UK's 2016 Brexit (EWU) vote, the volatility index rose ~56% between June 23 and June 24.
Article continues below advertisement
Dollar index fell in early trading
On the same day, the dollar index (UUP) fell in early trading. It fell nearly 1.9% on November 9, 2016, as of 12:10 AM EST. However, it recovered some points after that. On a year-to-date basis, the dollar index returned -1.4%.
The increasing volatility in the market is creating more uncertainty for investors. Market participants are also speculating about whether potential policy changes will affect their investment portfolio or not. Investors are meanwhile busy adjusting their portfolios.
In the next part of this series, we'll analyze the movement of gold.