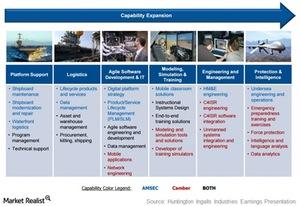 Strategic Rationale behind Huntington's Camber Acquisition
By Shannon Black

Updated
Huntington will acquire Camber 
On November 2, Huntington (HII) announced that it signed a definitive agreement to acquire Camber Corporation for $380 million. Camber provides mission-based professional services and high-end IT solutions to the US government. It had revenue of ~$364 million in the year ending June 30, 2016. The deal value includes $25 million in tax benefits from the deal. Net of those benefits, the purchase price reflects an 8.6x multiple over Camber's EBITDA (earnings before interest, tax, depreciation, and amortization for the year ending June 30, 2016. The company stated that it intends to fund this acquisition with cash on its balance sheet. Huntington had cash holdings of ~$900 million–$1 billion in the last four years. The acquisition will result in its cash holdings falling to a lower range. Management stated that it was comfortable holding $500 million–$600 million. It won't create any operational issues.
Article continues below advertisement
Camber's EBITDA margins are in the low double-digits. Its adjusted operating margins were 6.9% in fiscal 2016. Camber has a backlog of $800 million and requires low capital investment for its business. Huntington expects the acquisition to be earnings per share accretive and cash flow positive in the first year after the acquisition.
Strategic rationale behind the acquisition
The Camber acquisition is expected to complement Huntington's AMSEC business, which it has owned for almost ten years. Camber has a large Navy presence, which it maintained through its capabilities in Navy training and unmanned subsea support, systems engineering, and modeling. Camber also has customers in the Army and the Intel community. Huntington sees opportunities for both the Camber and AMSEC businesses through greater access to both their customers. The company stated that the combined capabilities of both Camber and AMSEC will allow it to chase contracts that neither of the entities could pursue on their own.