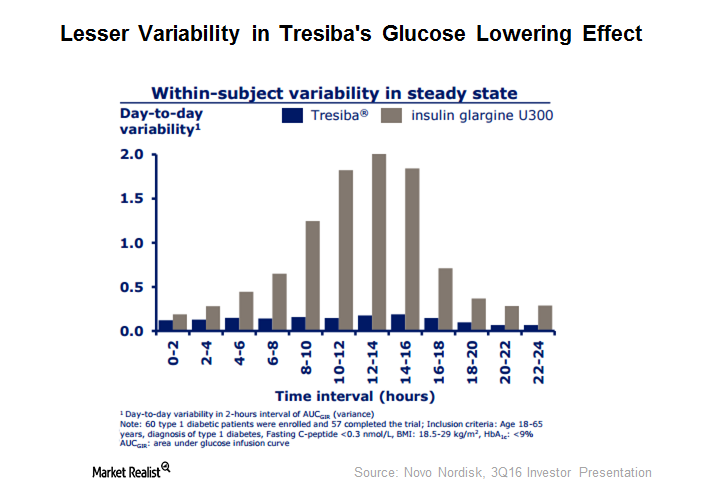 How Tresiba Helps Novo Achieve Its Growth Targets
Tresiba
During the first nine months of 2016, Novo's (NVO) new generation portfolio garnered 2.8 billion Danish kroner. Of this, Tresiba's contribution remained at 2.5 billion Danish kroner. Tresiba, the once daily new-generation basal insulin, is available in 47 countries. Its distribution in Germany was stopped followed by unsuccessful pricing negotiations.
Tresiba was launched in the US in January 2016. The product has significantly penetrated markets where Tresiba's reimbursement is at a similar level to insulin glargine U100. When market access is restricted, Tresiba's penetration remained modest in those regions. Novo expects the continued strong performance of Tresiba to be its prime growth driver.
Article continues below advertisement
During March 2013, Tresiba was launched in Japan at reimbursement similar to insulin glargine U100. With a steady uptake, the product held 40% share of the basal insulin market on a monthly value basis. Despite strong biosimilars uptake and pricing pressure from competitors, Tresiba managed to grow in the country.
Tresiba's SWITCH 1 & SWITCH 2 outcomes
Tresiba in its two clinical trials, SWITCH 1 and SWITCH 2, showed a lower rate of hypoglycemia than insulin glargine 100, which means it has lesser day-to-day variability in the glucose lowering effect. GlaxoSmithKline's (GSK) Tanzeum, along with Sanofi's (SNY) Toujeo and Lantus, and Eli Lilly's (LLY) Basaglar compete with the drug.
Novo's share price might rise on rising sales of Tresiba. The PowerShares International Dividend Achievers Portfolio (PID) offers diversified exposure to Novo. The fund holds 0.85% of its assets in the stock. Continue to the next part for details on Novo's biopharmaceuticals segment's performance in 3Q16.