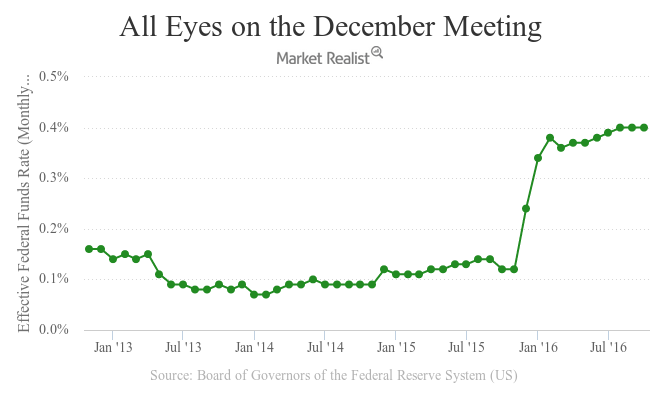 A Pass on a November Hike: It's Up to December Now
By David Ashworth

Nov. 4 2016, Published 10:43 a.m. ET
On expected lines
The expected occurred on November 2, 2016, when the FOMC (Federal Open Market Committee) left the federal funds rate unchanged at 0.25%–0.5%. The decision wasn't surprising, even after policymakers' aggressive tone in the September policy meeting and the subsequently released minutes.
[marketrealist-chart id=1725057]
Though Fed chair Janet Yellen stated following the release of the FOMC's September policy statement that the November meeting remained a live one as far as the possibility of a rate hike was concerned, most market participants were convinced that the central bank would refrain from hiking rates ahead of the presidential election on November 8.
Article continues below advertisement
Economic indicators were another reason—though a relatively minor one—why the FOMC remained at a standstill on the federal funds rate in November. Factors such as non-farm payrolls, inflation, and economic growth leading up to the November meeting would have had to be exceptionally strong for policymakers to even consider hiking rates this close to the election, which they weren't.
Over to December
We find ourselves in the same situation as last year as far as rate hike (CIU) (SCPB) is concerned. In 2015 as well, market participants kept waiting for a rate hike throughout the year, while weak economic indicators, adverse global developments, and hesitancy by the FOMC deferred the eventual hike to December.
While economic indicators have been partly responsible for the prolonged wait for a subsequent rate hike this year, global developments such as worries about China and Brexit and the quadrennial presidential election have led to the FOMC's again waiting for December to possibly hike rates.
In this series, we'll take a detailed look at the FOMC's November policy statement and how markets (RSP) (OEF) (SPHD) reacted to it and fared a day later. We'll also assess the possibility of a rate hike in December. Let's start with Bill Gross's reading of the November statement.