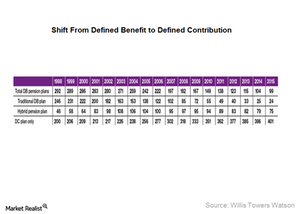 What Are the Different Types of Pension Plans?
By Ally Schmidt

Updated
Defined benefit plan
In a DB (defined benefit) plan, the employer guarantees payment to the employee of a defined amount upon retirement. To provide that amount, the employer needs to make certain assumptions and hope the plan performs according to these assumptions or—better yet—outperforms.
If the DB plan doesn't perform according to the assumptions, it's too bad for the company. Since the company assumes the investment risk, it will have to find a way to bridge any gap, as has been the case with Boeing (BA), Lockheed Martin (LMT), Raytheon (RTN), General Electric (GE), and many other large US companies.
Article continues below advertisement
Defined contribution plan
In a DC (defined contribution), the money that will go into the retirement fund is decided today and no assumptions are to be made. The investment risk is borne by the employee, who can choose to invest in stocks, mutual funds, or money market instruments.
The risk to the company is thus significantly lower in a DC plan than it is in a DB plan. The amount available upon retirement will depend on how much money is contributed by the employer (depending on plan description), how much money is saved by the employee, where, and for how long the money has been invested.
The shift from defined benefit to defined contribution
As DB pension plans have substantially higher risks for companies, after 2008, many companies froze their DB pension plans and shifted to DC pension plans. According to a Willis Towers Watson analysis, among Fortune 500 companies, the number of firms now offering a traditional DB plan to new hires has fallen from 50% in 1998 to only 5% in 2015. The number of companies offering a traditional or hybrid DB plan has fallen to 20%.
Boeing (BA) still offers a DB pension plan to some of its employees. Notably, Boeing makes up ~5.4% of the Dow Jones Industrial Average ETF (DIA).
Now let's take a look at the assumptions Boeing has made in its DB plans in order to arrive at its $17.9 billion pension obligation in 2015.