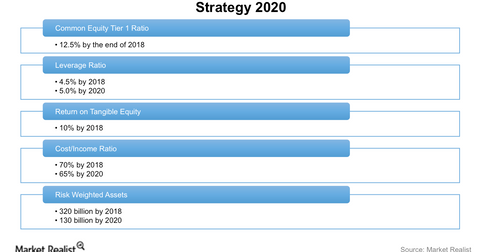 Is Deutsche Bank's Overhaul Plan Helping It Get Back on Track?
By Rebecca Keats

Updated
Strategy 2020
Investors worried about Deutsche Bank's bankruptcy are now looking at CEO John Cryan's plan to restructure the company's operations to get it back into profitability. Many analysts are of the view that its overhaul plans are not reaping the kind of benefits that were envisioned. Slowing economic growth along with all-time low interest rates are troubling the bank's lending business, and energy loans are going bad. Further, stricter regulations mean added legal and compliance costs for these banks, which is putting additional pressure on their top line.
Article continues below advertisement
Under its "Strategy 2020" announced last year, Deutsche Bank scrapped plans to pay dividends for the next two years and it's cutting 35,000 jobs as part of its plans to revive the bank. The bank also said it would cut operations in ten countries and cut its investment banking clients by 50% claiming that 80% of the revenues come from only 30% of clients. This involves around 4,000 job cuts in Germany, which is part of 9,000 role reductions worldwide. The bank also recently announced it had sold its British insurance business, Abbey Life, to Phoenix Group Holdings.
The bank will also simplify its legal structure, eliminating approximately 90 legal entities. Cryan has been under pressure to overhaul the bank after litigation expenses, and the market rout in Asia has pushed the bank's valuation much lower than its rivals' valuations.