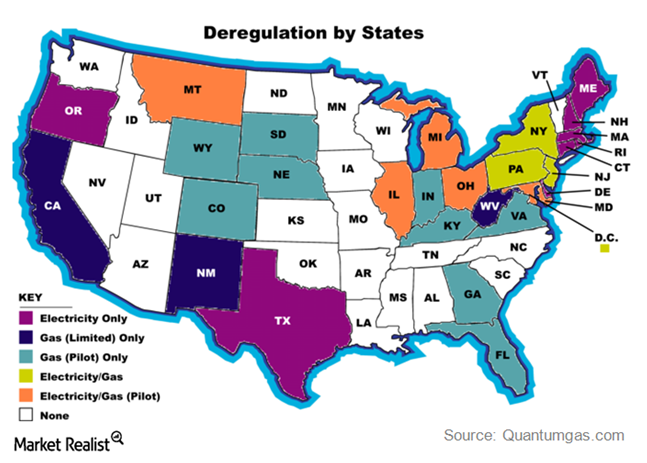 Breaking Down the Regulated and Deregulated US Electric Markets
PURPA
The US electric utility industry is mostly regulated. The Public Utilities Regulatory Policies Act (or PURPA) was passed in 1978, beginning the deregulation of the utility industry. PURPA also resulted in the creation of merchant power producers.
Article continues below advertisement
Article continues below advertisement
Regulated markets
In regulated markets, vertically integrated utilities generally operate with the control of the entire energy value chain, from power generation at the plant to the distribution of electricity to the end user. Regulated markets in the US include Florida, North Carolina, South Carolina, and Georgia.
Regulated utilities such as Duke Energy (DUK) and Southern Company (SO) are the largest regulated utilities by market capitalization in the US. Utilities in the regulated markets generally act as monopolies.
Deregulated markets
On the other hand, deregulated markets may have multiple utilities operating with various areas of operational expertise such as generation, transmission, and distribution. In deregulated markets, electricity rates are mostly driven by the market, capitalizing when the demand is high and attracting relatively higher margins.
Texas and Ohio are major deregulated markets in the US. CenterPoint Energy (CNP) and FirstEnergy (FE) are example of utilities that operate in these deregulated markets. Customers in deregulated markets have the option to choose from a variety of power suppliers.
Regulated versus deregulated utilities
Compared to deregulated utilities, regulated utilities generally earn relatively stable revenues due to their business models. Regulated utilities (XLU) are also the least exposed to market-driven power prices and generally have stable and predictable earnings.
In the last several quarters, lower power prices have marred deregulated utilities' earnings, resulting in relatively unstable dividends.