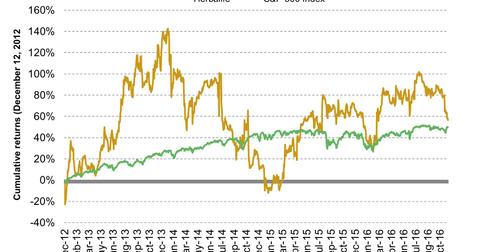 Bill Ackman Continues His Short Position in Herbalife
By Sarah Sands

Updated
Bill Ackman on Herbalife
Billionaire hedge fund manager Bill Ackman discussed his key investments in a recent interview. He said that he is continuing his short position in Herbalife (HLF). Herbalife is a nutrition company that primarily develops and sells fitness and energy products. Its business model, wherein distributors play the main role, focuses on direct selling, and this model has set new standards for the personal product industry.
Article continues below advertisement
But according to Ackman, Herbalife's business model is not a lucrative one. Over 99% of its distributors earn minimum wage, and 90% of new distributors drop out in their first year. Ackman claimed that "Herbalife is a pyramid scheme." The company has had to pay significant expenses toward regulatory inquiries. Ackman said, "The reality is fraud continues at Herbalife. I can't see any situation which is good for Herbalife." He continues to keep his short position on the stock.
Carl Icahn favored Herbalife
On the other hand, Carl Icahn, another prominent billionaire investor, said at the Delivering Alpha Conference, "I think Ackman's smart, but I think in this case it's absurd to have a major short position." At the conference, Icahn disclosed that he got permission from his company to acquire 35% of Herbalife shares. He's trying to get permission to acquire up to 50% of Herbalife shares. According to the institutional ownership report, Icahn is the largest investor in Herbalife (HLF) with 17 million shares as of June 30, 2016. Credit Suisse (CS) is the fifth-largest investor in Herbalife with 4.4 million shares.
According to Icahn, Herbalife is a good personal product company. When asked about why he's holding Herbalife after its had so many FTC (Federal Trade Commission) investigations, he said, "I believe Herbalife makes good products." He also thinks that its business model is a unique model in the market (SPY) (QQQ) (IWM) and will deliver a good return.
In the next part of this series, we'll analyze Bill Ackman's view on Valeant Pharmaceuticals.