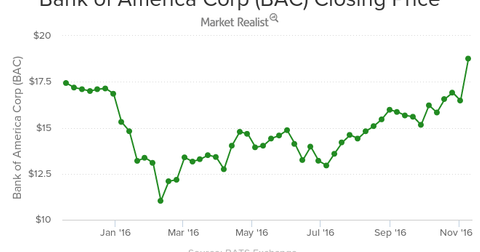 BAC's Stock Surged 22% in November, Outperforming Its Peers
By Rebecca Keats

Updated
Bank of America surged 22% in November
In 2016 so far, shares of Bank of America (BAC) have risen 19%. Comparatively, shares of Goldman Sachs (GS), Citigroup (C), and Wells Fargo (WFC) have underperformed. They've generated returns of 16%, 7%, and -3.3%, respectively, in 2016 so far. In November alone, shares of Bank of America have risen 22%, while the Financial Select Sector SPDR ETF (XLF) has risen 13.4%.
[marketrealist-chart id=1758740]
Article continues below advertisement
2016 has been a rough year for the financial sector. Banks entered 2016 expecting four rounds of interest rate hikes. Things haven't turned out in their favor. Most banks expected their earnings to improve in 3Q16 as trading activity picked up. Further, the start of 3Q16 witnessed solid pipeline activity and improving macroeconomic fundamentals.
Pressures of credit costs have also eased as credit quality has improved. For banks, this could result in less of a need for energy-related loan loss reserves, stabilizing commercial net charge-offs and relatively stable consumer credit costs. Banks, which have been in the spotlight since the start of 2016, could see easing pressures in the upcoming quarter's results.
Donald's Trump's surprising presidential victory in the United States has added more uncertainty and heightened volatility to the stock market. For banks, this means more trading revenue. 
If Trump recalls or relaxes banking regulations such as the Dodd-Frank Act or the Volcker Rule, banks' earnings could rise. Further, strong economic growth could lead to interest rate hikes and a significant upside for bank stocks.