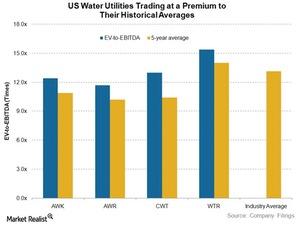 Inside AWK, AWR, CWT, and WTR: Are US Water Utilities Fairly Valued?
By Vineet Kulkarni

Nov. 15 2016, Updated 6:04 p.m. ET
Valuations
On November 11, 2016, major water player American Water Works (AWK) was trading at an EV-to-EBITDA (enterprise value to earnings before interest, tax, depreciation, and amortization) multiple of 12.2x, as compared to its five-year historical average multiple of 11x.
By comparison, American States Water (AWR) and Aqua America (WTR) are trading at EV-to-EBITDA valuations of 11.8x and 15.3x, respectively. California Water Service's multiple is 13x, while the historical average for US water utilities stands at roughly 12x.
Remember, the EV-to-EBITDA ratio gives a comparative idea of the valuation of a company, regardless of its capital structure. In particular, EV refers to the combination of a company's market capitalization and debt, minus its cash holdings.
Article continues below advertisement
PE multiple
Water utilities (PHO) have historically traded at PE (price-to-earnings) ratios of 16x–18x. American Water Works is currently trading at a PE ratio of 28x, while American States Water is trading at a PE ratio of 26x, and California Water Service is trading at a PE multiple of 35x.
Water companies thus still seem to be trading at fair premiums to their historical averages. Some risk-averse investors consider them to be attractive investment options, given their fair yields and relatively stable stock movements. During the market turmoil after 2016 presidential election results, water utility stocks appeared to be well placed, as compared to relatively less volatile electric utilities (XLU).