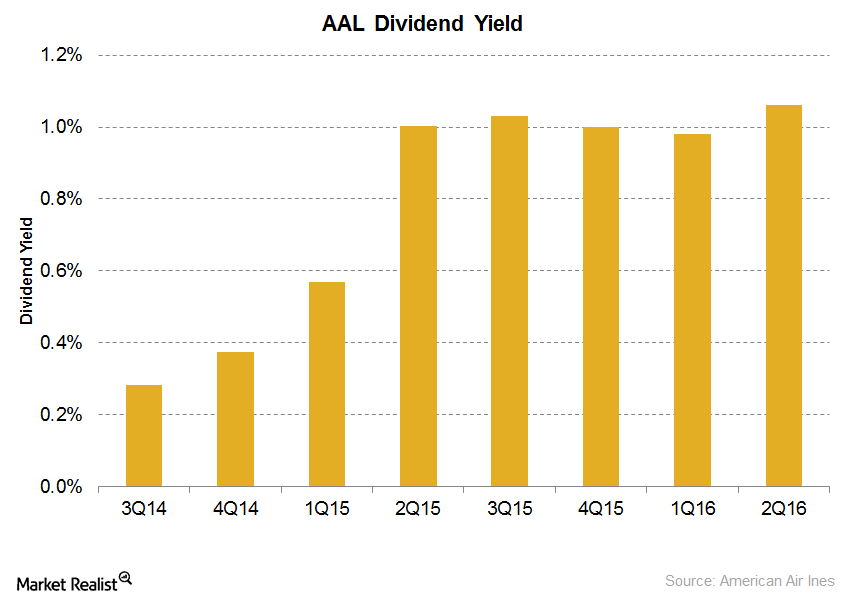 Will American Airlines Increase Dividend Payouts?
Dividends
American Airlines (AAL) started paying dividends in mid-2014, joining the ranks of Delta Airlines (DAL), Southwest Airlines (LUV), and Alaska Air Group (ALK), the few dividend-paying airlines. The huge savings from fuel since 2014 have made the airlines profitable, thus making dividend payouts a possibility. However, unlike AAL, all these airlines have a robust balance sheet with low leverage.
AAL, on the other hand, has been busy with other issues like its bankruptcy in 2011, which it emerged from only in 2013, and then integration issues related to the US merger.
Article continues below advertisement
Dividend yield
Despite these issues, AAL has an indicated dividend yield of 1.06%, similar to Southwest's yield of 1.01%. Alaska has an indicated dividend yield of 1.6% and Delta has the highest indicated dividend yield of 2.02%.
American's cash dividend ratio also stands at a strong 16.4% at the end of 2Q16, indicating AAL's ability to sustain dividend payouts. The ratio is calculated as income before extraordinary items less minority and preferred dividend over dividends paid. The ratio measures the ability of the company to pay dividends. A ratio of less than one indicates dividend payouts higher than the company's cash flows, which may be difficult to sustain in the future.
Outlook
AAL's management said it will continue to return capital to shareholders. However, it also recognized the need to be cautious about its leverage. American Airlines (AAL) forms 1.5% of the Guggenheim S&P 500 Equal Weight Industrials ETF (RGI).
Though AAL may be in a position to increase dividend payouts, it may not do so. Analysts are predicting AAL's dividend per share to increase to $0.11 in 3Q16 as against an earlier expectation of $0.13 in 3Q16. Investors, however, need to watch AAL's dividend policy for 2016 in the upcoming call. We will be covering AAL's earnings, so be sure to check the Market Realist American Airlines Page.